Terrier Survives Horrific Alleged Abuse, Felony Charged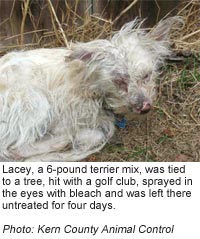 (Kern County, CA) A 6-pound terrier was allegedly abandoned for days, reportedly having been tied to a tree, hit with a golf club and sprayed in the eyes with bleach. Animal control officers discovered the dog on December 4, 2010. The dog, named Lacey, has since undergone extensive veterinary treatment, and is reportedly undergoing rehabilitation in a loving home.
The dog's owner, Robert Gonzales, has been charged with felony animal cruelty as well as three possession-related charges. Providing yet another tragic example of the link between cruelty to animals and violence toward humans, this defendant is reportedly the subject of a domestic violence restraining order as well.
Take Action!
Send a polite letter to the Kern County District Attorney, encouraging that the case be prosecuted vigorously, with a strong and meaningful sentence sought upon conviction.
Local residents are encouraged to support the prosecution by attending the court proceedings. A hearing is currently scheduled for December 29, 2010. (Always contact the Court to confirm court dates and locations as they are subject to change.)
Court Information:
Clerk of the Superior Court
Kern County
1415 Truxtun Ave.
Bakersfield, CA 93301
Phone: 661- 868-5393
Website
Case #: BF134866A
Article source: IFAW