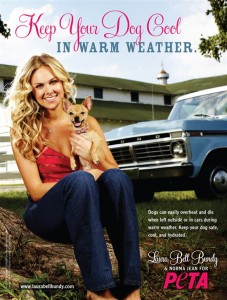 Laura Bell Bundy and PETA want to remind people not to leave their dogs unattended in vehicles during the hot summer months. Bundy and her adopted Chihuahua, Norma Jean, were photographed under a shady tree in the public service announcement. It was shot by celebrity photographer Jeremy Cowart in Franklin, Tennessee.
In an exclusive interview with PETA, Bundy talks about the importance of keeping dogs cool this time of year. "[P]eople need to know about it," she explains. "They leave their dog alone in the car unintentionally thinking it's OK if they go inside the grocery store for five minutes, but … it's a hot car, and you wouldn't want to be left alone in there, either."
Every summer, PETA receives reports of dogs dying after being left alone in cars. Even parking the car in the shade or leaving the windows slightly open does not help. The temperature inside a car can climb to more than 100 degrees in a matter of minutes. Dogs can quickly become dehydrated or have a heat stroke. Bundy is doing her best to get this message out to dog owners now before it gets extremely hot outside. She has joined a growing list of influential celebrities, including Justin Bieber, Dolly Parton, Emmylou Harris, Lea Michele, Charlize Theron, Sir Paul McCartney, and Eva Mendes, who support PETA's work.
—Tessa Prince
Contact: jerry@nashville.com
GD Star Rating
loading...
Article source: PETA Action Alerts