The
following article was written by Ashley Palmer.
Growing up, holidays were always food-centered events. My
family even has a decorative plate that signifies whose special day it is. One
of my favorite meals was a yummy breakfast casserole. Knowing that my newly vegan
parents were bummed that they'd be missing out on this tradition, I decided to
veganize the dish and surprise them.
If you're looking to treat your dad to a delicious and
cruelty-free breakfast this Father's Day, look no further than this tasty
breakfast casserole.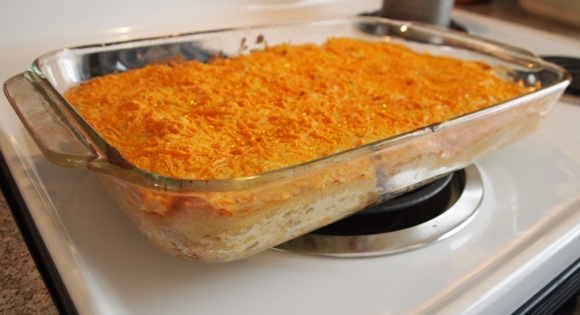 This recipe can easily be altered to fit any occasion and any
set of taste buds. Looking for a kick? Add in diced jalapeños and serve topped
with salsa. Or add in fresh spinach and sliced mushrooms for a country-style
favorite. No matter how you like it, you can make it your own. Enjoy!
Father's Day
Breakfast Casserole
For the 'Egg' Mixture:
1/2 cup plain soy milk
1 lb. extra-firm tofu
2 Tbsp. olive oil
1 Tbsp. soy sauce
2 garlic cloves, crushed
1 Tbsp. onion powder
1 tsp. thyme
1 tsp. turmeric
1 tsp. paprika
1 tsp. garlic salt
1/3 cup nutritional yeast
For the Casserole:
1 pkg. Gimme Lean Sausage
2 Tbsp. olive oil
1 qt. shredded hash browns (frozen
is OK)
1 pkg. Daiya Cheddar Style Shreds 
Preheat the oven to 450°F.
Place all the ingredients for the "egg"
mixture in a blender and blend until smooth.
Crumble the vegan sausage and brown slightly in 1
tablespoonful of the oil in a pan over medium heat.
Use the other 1  tablespoonful of oil to coat the bottom of a
large baking dish. Layer the hash browns, the sausage, and the vegan cheese
along with any other ingredients that you would like to add.
Pour the egg-like mixture over the layered hash
browns, sausage, and cheese, then sprinkle more cheese on top.
Bake for 25 to 30 minutes.
Makes 10 servings
GD Star Rating
loading...
Article source: PETA Action Alerts