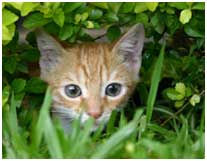 Where the violence is played out in front of children, the most repugnant of animal abuse crimes becomes all the more disturbing. While certainly not uncommon within families caught up in the web of domestic violence, this affront may also victimize children wholly unrelated to the abuser or his situation.
A recent case in Florida alleges that a woman beat two kittens with a baseball bat at a public park – with her two sons, ages 5 and 8, reportedly participating in the fatal attack. This shocking display of violence was in turn witnessed by children who had gone to the park to play, and instead found themselves not only confronted by horrific animal abuse, but taking a risk to intervene and save one of the kittens from death.
Other recent news reports include:
Madison County, IL – animal cruelty charges are filed against a man for allegedly siccing his dogs on a cat in front of neighborhood children
Boone County, WV – a man allegedly noosed a neighbor's dog away from the 13 year old who was walking him, slit the dog's throat and threw him back over the fence
Kandiyohi County, MN – a 7 year old girl was allegedly threatened by a man who shot a litter of puppies in front of her, reportedly telling her he'd shoot her as well if she didn't get out of his way
While an increasing number of states acknowledge the issue of child witnesses to domestic violence in their criminal codes, only Oregon, Arkansas and Puerto Rico specifically address animal abuse carried out in the presence of minors. Oregon's anti-cruelty statute, for example, has a provision which enhances a charge of animal abuse from a misdemeanor to a felony where the act was carried out in front of a minor.
Take Action!
Contact your state legislators by completing the information to the right and let them know that as a voting constituent you are concerned about animal abuse and domestic violence in your community. Encourage them to consider supporting legislation that addresses the gravity of animal abuse carried out in the presence of and/or as a threat to children. Point them to ALDF's Model Animal Protection Laws Collection as a resource, and encourage them to contact legislation@aldf.org directly.
Find out from your city/county law enforcement officials what communication systems exist between your local animal protection agencies and the area's domestic violence resources. Volunteer to assist them with those efforts, or – where necessary – work with them toward establishing improved coordination.

The Florida case noted above has inspired a state bill called "Dexter's Law" (SB 618) which seeks to establish an Animal Abuser Registry. Go to www.ExposeAnimalAbusers.org and find out more about the potential these registries have to prevent incidents of animal abuse and save taxpayer dollars.
The mental health community continues to explore and address the issue of children witnessing violence, resource examples on this subject include:
Child Witness to Violence Project
North Carolina Child Response Initiative
National Center for Children Exposed to Violence
Witnessing Violence Fact Sheet from the National Violence Against Women Prevention Research Center
Additional resources:
Animal Protection Laws, state by state
Find Your Elected Officials
ALDF's Model Animal Protection Laws Collection
Get Political for Animals and Win the Laws They Need, by Julie Lewin
Animal Cruelty and Domestic Violence
The National Link Coalition
GD Star Rating
loading...
Article source: IFAW