Stolen and Abused Dog Rescued, Microchip Reunites Victims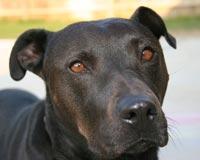 (Fresno County, CA) A sheriff's deputy was among the witnesses to the reported gross abuse of a dog on October 30, 2011. Chet Lee Leiker was arrested on the scene for allegedly beating and kicking the dog, swinging her from her leash and slamming her to the ground. The limping and traumatized dog was taken to the Central California SPCA for treatment – their discovery of a microchip allowed investigators to quickly identify "Sheba" and return her to the home from which she had been stolen. Chet Lee Leiker is facing charges of felony animal abuse and possession of stolen property.  
Pet theft remains a terrible reality across the country. Often underlying these crimes are dogfighters seeking "bait" animals (as well as fighting and breeding victims), and dealers (aka "bunchers")
acquiring animals to sell to research laboratories or breeding
operations. While stealth is the more usual approach, more brazen ruses
are not unheard of, as in the recent case of three men posing as animal control officers in order to steal dogs from yards without arousing suspicion. Less organized motivations include kidnap/ransom attempts, animal hoarding, "revenge" by disgruntled neighbors, and spontaneous juvenile violence.
Take Action!

Local residents are encouraged to support the prosecution by attending the criminal proceedings. A preliminary hearing in the Leiker case is currently scheduled for December 20, 2011 at 8:30 a.m. (Always contact the Court to confirm court dates and locations as they are subject to change.)

Fresno County Superior Court, Criminal Division
1100 Van Ness Avenue
Fresno, CA  93724
559-457-1801
Case #F11-906273

Letters may be mailed to the Fresno County Sheriff, thanking her office for recognizing the gravity of animal abuse crimes, and specifically acknowledging the actions of the deputies involved with the Leiker case.

Sheriff Margaret Mims
Fresno County
2200 Fresno Street
Fresno, CA  93721
(sorry, no email address available)

Educate yourself and your neighbors on the issue of pet theft.
GD Star Rating
loading...
Article source: IFAW