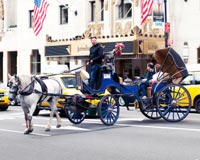 The plight of New York City's carriage horses is well documented. Fortunately, the New York Legislature has two bills pending that would put an end to this exploitive industry in the Big Apple.
When passed, S.5013 and A.7748 will ban the use of horse-drawn carriages in New York City and require a humane disposition of "spent horses" to prevent their sale for slaughter. These bills have been languishing in the Cities Committee in both the Assembly and the Senate since May 2011. However, in light of the most recent coverage of this issue by the New York Times, there is renewed hope that these bills will get hearings and then voted out of committee.
Take Action!
Take a moment to speak out for horses! Send a message to Carle Heastie, Chair of Cities Committee in the Assembly, and Andrew Lanza, Chair of the Cities Committee in the Senate, by completing the form to the right. Urge them to give these bills a full hearing so that S.5013 and A.7748 can move to the floor for a full vote in the Senate and Assembly.
GD Star Rating
loading...
Article source: IFAW