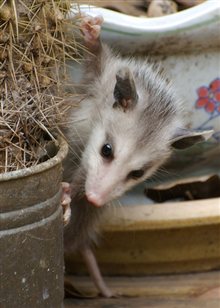 Ah, New Year's Eve. Staying up late, sipping bubbly, singing
"Auld Lang Syne," and … scaring the daylights out of an opossum? Unfortunately,
yes, that last one happens every year at the New Year's Eve "Opossum Drop" in Brasstown, North
Carolina. During the cruel event, a live opossum is suspended above a raucous
crowd in a Plexiglas box for hours before being "dropped" about 40
feet in a redneck variation of New York City's Times Square ball drop.
The opossum used in this event was snatched from her natural
home—a terrifying and disorienting experience—and is reportedly confined to a
retail store until the event. During the "drop," the frightened
animal will be subjected to a screaming crowd, fireworks, and the firing of muskets,
which can damage her sensitive hearing and respiratory system. It's no wonder
that eyewitnesses have reported that opossums used in previous years were shaking
in fear. After the event, the opossum apparently will be released in a parking
lot, putting her in danger of being hit by a car.
PETA is urging the North
Carolina Wildlife Resources Commission to rescue the opossum who is currently
in Logan's possession and to end
the use of live animals in the Opossum Drop for good, since it's both cruel and
illegal. The event's organizer, Clay Logan, apparently
lacks the required permit to keep a wild animal, but even if he had it, the
Opossum Drop would clearly violate the permit's condition that wild animals
receive humane treatment.
Click here to urge North Carolina officials to intervene.
There's no reason to be cruel, and the Opossum Drop would be fun and safe for
everyone if a toy opossum were used instead.
GD Star Rating
loading...
Article source: PETA Files