Home

Latest news

News 2011

European Union adopts new position to improve welfare of whales
Dec 22, 2011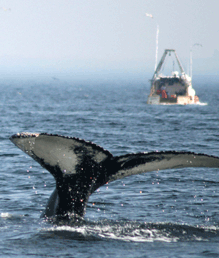 WSPA welcomes the strong European Union anti-whaling stance which commits the 25 EU members of the IWC to maintain the moratorium on commercial whaling. The position, which will run from 2012-2015, also directs EU member states to support the creation of whale sanctuaries and back proposals to end so-called 'scientific whaling'. The position dictates that the EU will only support aboriginal subsistence whaling catches when they are properly regulated, sustainable and for local subsistence purposes.
The decision comes after several months of consultation during which WSPA lobbied EU member states extensively to ensure a strong line against commercial whaling and to encourage them to collectively commit to proactively support welfare and conservation initiatives for the first time in an EU mandate.

 

WSPA's Oceans Campaign Leader, Claire Bass, said: "The EU bloc is a major voice in the IWC and their commitment to protect whales is an important victory in our campaign. The UK Government was particularly strong in championing our recommendations for the EU to adopt a pro-welfare, pro-whale position, and we commend their efforts."
Danish dependencies
The Netherlands, Germany and France also championed amendments to make the EU more whale-friendly, however Denmark, claiming to be acting in the interests of its whaling nation dependencies, Greenland and the Faroe Islands, has been increasingly vocal in favour of commercial whaling, despite the vast majority of Danish people being opposed to it. In 2012 WSPA will be working alongside Cambridge University animal welfare experts to convince Danish MPs that commercial whaling is unacceptably cruel.
Japan continues whaling
Meanwhile, the Japanese whaling fleet has set sail to hunt, ostensibly for "scientific research", in the protected Antarctic waters of the Southern Ocean. Following 2010's whaling season, deemed a failure for the Japanese hunters, now the whalers aim to kill as many of their 985-whale quota (935 minke whales and 50 fin whales) as possible. In order to shield the whaling fleet from animal rights activists, the Japanese government is spending an additional $30 million from its own budget for tsunami relief on security.
"The Japanese fleet is heading towards Antarctica armed with around half a tonne of explosives and a shopping list of almost one thousand whales," Bass said. "Commercial whaling is cruel and unnecessary and it's time Japan consigned it to the history books."
Please enable JavaScript to view the comments powered by Disqus.
blog comments powered by Disqus
Page tools:


Share, Bookmark, Email or Print
GD Star Rating
loading...
Article source: WSPA