When
a baby monkey fell off an electric pole high above a
highway in Sangli, India, and plummeted to the road below, she was knocked
unconscious and one eye was left swollen and bloody. Someone saw the monkey
fall and alerted officials. Knowing the superb rehabilitation work that PETA's
friends at Animal Rahat
("rahat" means "relief" in Hindi)
do, forest officials asked them to go to the scene immediately.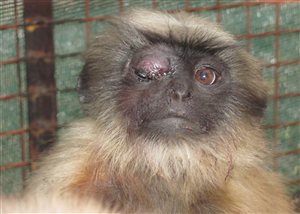 Animal
Rahat took
the injured animal to its rehabilitation facility, where workers gently flushed
her eyes and gave her antibiotic eyedrops for a few days. It was delicate work
helping the monkey to heal while handling her as little as possible so as not
to cause her stress, which
can lead monkeys to mutilate themselves. 
A
week later, with her health improving, it was safe to give the tiny monkey the
freedom and space that she craved, so she was taken to the Katraj wildlife rescue
center, where she could enjoy a forest-like setting while continuing to heal.
The
monkey relished her freedom and continued to improve while she built a trusting
relationship with her caretakers. But life in captivity is not what nature
intended for monkeys, and after two months there, her rescue team bid her a
tearful goodbye and released her back into the forest. Animal Rahat workers still
visit the forest from time to time to see if they can spot her and even managed
to get one last picture of the now fully recovered monkey doing what monkeys do
best.
GD Star Rating
loading...
Rescued: Monkey Who Fell From the Sky,
Article source: PETA Files