Home

Latest news

News 2011

Kristin Bauer supports Red Collar work in Bangladesh
Dec 9, 2011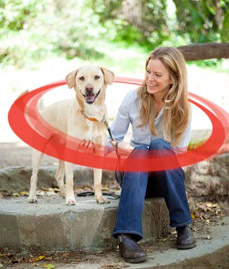 The south Asian nation of Bangladesh has witnessed its first vaccinations under the Red Collar campaign which has attracted the backing of True Blood star Kristin Bauer.
Bauer, who plays vampire Pam in the smash-hit series, announced her support for WSPA's Red Collar campaign after hearing about the brutal ways in which nearly 20 million dogs are killed worldwide every year, often in failed attempts to control rabies.
"I was absolutely shocked when I heard that governments around the world are resorting to poisoning, shooting or gassing dogs as a way to try and prevent the spread of rabies," said Bauer. "It's so important to spread the word about WSPA's effective and humane alternative solution – mass vaccination – so that this horrible cruelty ends. We must continue to demand collars, not cruelty, in the fight against rabies."
Animal-loving Bauer is currently filming the fifth series of True Blood and is the second international celebrity to put support behind WSPA's Collars Not Cruelty after renowned singer Leona Lewis launched the campaign in September.  
Just the beginning
On 28 September this year, also World Rabies Day, we announced a project in Bangladesh supporting the national government to implement a pilot campaign of vaccinations in the country's principal resort town, Cox's Bazar. This would pave the way for a nation-wide vaccination campaign across Bangladesh, which, like other countries in the region, has an endemic rabies problem.  
The national Government subsequently ordered local authorities to halt the inhumane killing of dogs in Coz's Bazar and the dog vaccination programme got underway .WSPA-trained vets moved through the town, assisted by dog handlers from our partner organisation, Sri Lanka's Blue Paw Trust, who are also involved in a WSPA-led rabies-control project in Sri Lanka. Now, the pilot project in Cox's Bazar has been completed with around 3,400 dogs vaccinated against rabies.
"Our Collars Not Cruelty campaign helped to initiate the successful vaccination pilot programme in Cox's Bazar, which we now hope will be implemented across Bangladesh," said Ray Mitchell, International Campaigns Director at WSPA. "Now, with Kristin's support and her ability to reach an even wider audience, we are hoping to continue this positive momentum and show other governments and communities everywhere that a world without rabies does not mean a world without dogs."
Please enable JavaScript to view the comments powered by Disqus.
blog comments powered by Disqus
Page tools:


Share, Bookmark, Email or Print
GD Star Rating
loading...
Article source: WSPA