Home

Latest news

News 2011

Reception for U.N. Delegates confirms that Farm Animal Welfare matters for people and the planet
Dec 16, 2011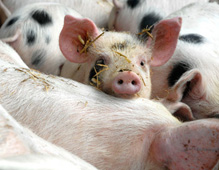 On Dec. 15, as delegates from around the globe meet at the U.N. to discuss policies to promote sustainable development, WSPA  and other agriculture and development organizations spoke at a United Nations reception event.
In front of an audience of more than 60 U.N. representatives and delegates, the speakers presented evidence that high-welfare farming is a viable, environmentally-friendly alternative to intensive industrial production methods. They also outlined the strong link between better animal welfare, improved livelihoods and the global 'green economy,' and stressed that these issues must be on the agenda for next year's U.N. Conference on Sustainable Development (UNCSD, or Rio +20).
"The number of animals involved in farming is almost impossible to comprehend – more than 63 billion, worldwide," said speaker Michael C. Appleby, PhD, Chief Scientific Adviser, Humane and Sustainable Agriculture, WSPA. "Animals are central to our world – they're critical to the lives of human beings. But it's important to remember that they are not just economic machines. If we remember that, then we'll produce a system that is centered more on biology rather than technology – one that will benefit animals, people and the environment."
"Animals are not part of the problem, they are part of the solution," added speaker Linda Elswick, Co-Director, International Partners for Sustainable Agriculture (IPSA). "The challenges associated with livestock production can be resolved by respecting the natural needs of animals." 

Putting farm animal welfare on the agenda at Rio+20
In the run-up to Rio+20 in June 2012, WSPA is committed to ensuring that animal welfare is placed at the heart of U.N. policy-making on agricultural sustainability and international development. The organization recently kicked off a campaign to raise public awareness of the relationship between better animal welfare, the environment, economics and sustainability. It is also urging people to sign a letter to their governments and the U.N., asking them to put animal welfare on the agenda at Rio+20.
"This is our chance to influence the debate and to shape policies that can protect millions of animals worldwide," said Dr. Lesley Lambert, Chief Policy Advisor, WSPA. "Right now, member states of the U.N. are preparing their positions for next year's Earth Summit – we have a unique opportunity to give animal welfare its rightful place in the sustainable development discussion."
Coming together for animals, sustainable agriculture and development
The Dec. 15 reception event, hosted by the Government of the United Republic of Tanzania and IPSA, was held during the second UN Commission on Sustainable Development Intersessional meeting, during which governments discuss the outcomes of next year's Rio+20.
Other speakers who presented on the benefits of humane and sustainable agricultural systems, included: H.E. Ombeni Y. Sefue, Ambassador, United Republic of Tanzania; Will Harris; Farmer and Owner, White Oak Pastures, U.S.; Vera Florida Mugittu, Muvek Development Solutions, Tanzania; Tara Garnett, Food Climate Research Network, UK; Miyun Park, Global Animal Partnership, U.S.; and Dirk-Jan Verdonk, Programmes Manager, WSPA Netherlands.
"Twenty years ago at the Earth Summit, there was only one lonely voice mentioning the positive role animals can bring to sustainable development, and calling for the humane treatment of farm animals," said Elswick. "Today, thanks to this initiative to put humane, sustainable agriculture in the Rio agenda – and particularly thanks to WSPA – there are many voices. I want to welcome you to the process, and I look forward to our continuing to work successfully together."
Click here to read more about WSPA's efforts to save tens of millions of farm animals, worldwide.
Please enable JavaScript to view the comments powered by Disqus.
blog comments powered by Disqus
Page tools:

Share, Bookmark, Email or Print
GD Star Rating
loading...
Article source: WSPA