Home

Latest news

News 2011

Red card to cruelty: WSPA congratulates Ukraine for ending cruel culls
Dec 1, 2011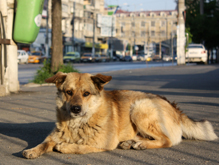 Earlier this year, WSPA was concerned to hear reports that thousands of dogs were being cruelly killed in Ukraine. Reportedly, several cities were taking this drastic step to 'clean up' their streets ahead of the Euro 2012 football championship being co-hosted by Ukraine and Poland.
Although the Ukrainian Minister of Environment and Natural Resources Mykola Zlochevsky has subsequently ordered an end to the cruel practice, WSPA is writing to the President of UEFA as well as members of the National Executive Committee of the body, asking them to use their considerable influence to ensure that similar culls do not take place anywhere else.
In a letter to the President of UEFA, the Chief Executive of WSPA writes, "We appreciate that UEFA has not encouraged or endorsed the mass killing of dogs in Ukraine, but this situation does present an opportunity for UEFA, through its guidelines, to prevent any other country undertaking the mass killing of dogs as part of their preparations for future championships.
We would very much welcome the opportunity to meet with you to discuss the possibility of undertaking collaborative efforts to ensure that Governments prepare for future championships by using humane dog population management, not mass killing, to control their stray dog population."
Effectively managing stray populations
As WSPA has witnessed through several of our projects worldwide, stray dog populations can be effectively managed through identifying and addressing the root cause of the problem – this can only be done through implementing a tailored package of humane dog population management methods, which could include; sterilisation, registration of dogs and promoting responsible pet ownership.
WSPA has extensive knowledge and experience of humane dog population – we are a founding member of the International Companion Animal Management Coalition (ICAM) which has published guidelines on humane dog population management and have worked extensively with organisations such as the World Health Organisation (WHO), Global Alliance for Rabies Control (GARC), the United Nations, Food and Agriculture Organisation (FAO) and the World Organisation for Animal Health (OIE). We have also run several successful dog population management programmes in countries across the world including Colombo in Sri Lanka and Tanzania.
Click here to read about our work in these projects.
Please enable JavaScript to view the comments powered by Disqus.
blog comments powered by Disqus
Page tools:


Share, Bookmark, Email or Print
GD Star Rating
loading...
Article source: WSPA