Home

Latest news

2012

From the Field: Achieving "Collars Not Cruelty" in Cox's Bazar
Jan 9, 2012
WSPA's mass vaccination project in Bangladesh is helping to protect thousands of dogs, as well as local families, from rabies.
As part of our "Collars Not Cruelty" campaign, WSPA recently arrived in Cox's Bazar to help the Bangladesh government carry out a large-scale dog vaccination project. In two weeks, four vaccination teams immunized more than 70 percent of Cox's Bazar's dog population – enough to ensure that the local dogs, and therefore the community, will be safe from rabies.
Similar to our successful work in Bali , the teams put red collars on vaccinated dogs, or sprayed their backs with toxin-free yellow paint, to indicate that the animals were protected against the deadly disease. Further, the teams educated the community about the importance of vaccination in the fight against rabies.
Thanks to those who have donated to our "Collars Not Cruelty" campaign, WSPA was able to help the following animals and families, among many others, in Bangladesh: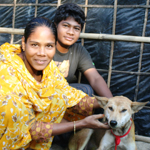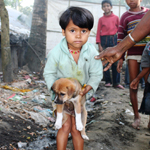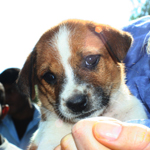 Pinko is now safe from the horror of mass killingsAntora and her best friend, JumbaProtection – and a new home! – for Rocky
Click here to learn more about WSPA's "Collars Not Cruelty" campaign.
Please enable JavaScript to view the comments powered by Disqus.
blog comments powered by Disqus
Page tools:


Share, Bookmark, Email or Print
GD Star Rating
loading...
Article source: WSPA