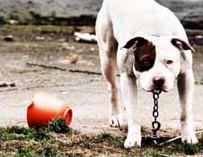 Help make it illegal to attend or bring a minor to animal fights!
Organized animal fighting operations are very difficult for law enforcement to shut down. In order to stop the sadistic animal cruelty associated with both dogfighting and cockfighting, it is important to hold all of the individuals responsible for the ventures accountable. Large operations may involve hundreds of people: sponsors, exhibitors, trainers, and attendees. Attendees fund cruel animal fighting spectacles with money they use for entrance fees and gambling; however, the part of the federal Animal Welfare Act (AWA) that addresses animal fighting, 7 U.S.C. § 2156, does not prohibit a person from attending the events.
To correct this deficiency, a bill was introduced in Congress on July 11, 2011, that, if passed, would make it illegal to knowingly attend or to bring a minor to an animal fighting venture. Bill H.R. 2492 entitled the "Animal Fighting Spectator Prohibition Act of 2011" would amend federal law to provide a penalty of up to one year in prison for knowingly attending an animal fighting venture and up to three years in prison for causing a minor to attend an animal fighting venture.
Ask your Congressional Representative to cosponsor H.R. 2492 by completing your information to the right. It's time to close loopholes in the federal animal fighting law and give law enforcement the tools they need to hold animal abusers accountable.

Sending your message, please wait …

GD Star Rating
loading...
Article source: IFAW