It's a common sight in
Maharashtra during sugarcane season—bullocks panting
and frothing at the mouth from straining to pull carts piled high with
sugarcane. Their knees are swollen, and their necks and shoulders bear wounds that
are a silent testimony to their daily toil under the yoke.
The bullocks who are forced to
work on India's sugarcane farms are commonly denied proper food, fresh drinking
water, sufficient rest, and relief from the blazing-hot sun. They are yanked
roughly by wires threaded through their pierced noses and are often beaten or
whipped. Strands of barbed wire are sometimes put under the wooden yoke, and a thin
piece of leather is attached to the whip to make it sting even more.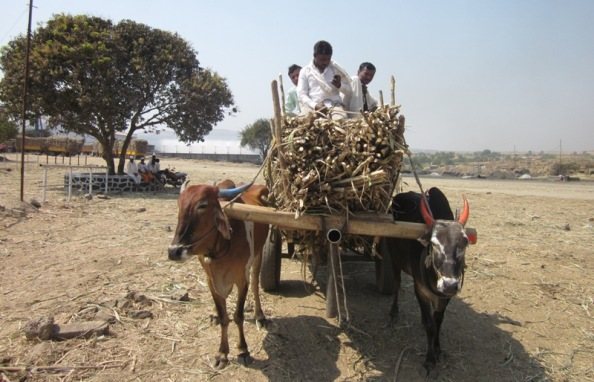 Before
PETA's friends at Animal Rahat, which offers relief for India's working animals,
are improving conditions for these bullocks. For years, Animal Rahat
has provided bullocks with medical attention, persuaded owners to let sick and
injured animals rest, and replaced painful nose ropes with harnesses.
But Animal Rahat's groundbreaking new initiative, "The Tractor Project,"
is a way to eliminate the use of bullocks completely
and replace them with small tractors. It's the start of a terrific plan that
could eventually relieve untold suffering.
Sugarcane farms are largely
staffed by migrant workers who live on the factory land for six to seven months
of the year, harvesting and hauling. These poor farmers cannot afford to buy a
motorized vehicle to haul the cane, but The Tractor Project is changing that. Animal
Rahat made a donation toward the purchase of five new tractors for workers at the
Kranti Sugar Factory. The factory then gave the employees an interest-free loan
for the rest of the cost.
Last
week, the first five owners were presented with their new tractors, and their
10 old, worn-out bullocks were released from servitude in a touching ceremony
at the factory. When the bullocks arrived at Animal Rahat's Retired Bullock Home later that same day, caretakers
removed their nose ropes and offered the relieved animals jaggery, a sweet
treat that they love, to welcome them.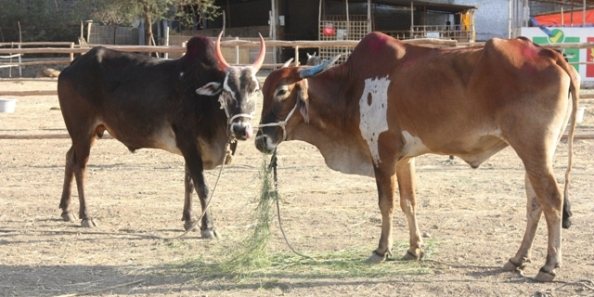 After
Animal Rahat and the Kranti Sugar
Factory plan to distribute more tractors as they find the funds to do so. And
Animal Rahat is preparing to expand The Tractor Project to other areas if
possible. Each sugarcane factory uses about 1,200 working bullocks, so it will
be no small task. But Animal Rahat is dedicated to ending the suffering of
bullocks.
To contribute to Animal Rahat's
overall efforts—which fund new
initiatives, including The Tractor Project—visit
Animal Rahat's fundraising
page.
GD Star Rating
loading...
Article source: PETA Files