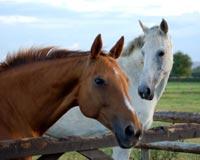 Horse slaughter lobbyists and their allies in the state legislature are working hard to open the door to horse slaughter plants in Tennessee, and your voice is needed to fight this dangerous precedent.
In an underhanded move to prevent Tennesseans from standing up to this cruel and predatory business in their own communities, legislators have attached a "surety bond" amendment to HB 3619 that would require a bond to be posted for any legal challenge against the building of a horse slaughter plant.
This amendment would require citizens to pay 20% of the plant's building or operational costs if they want to challenge a permit or license for a horse slaughter plant. Tennessee citizens who want to keep the horse killing business out of their communities would have to pay for the privilege of speaking out.
Take Action!
Speak out for horses and for your rights! Contact your state legislators today telling them not to encourage horse slaughter plants to be built in Tennessee by denying a citizen's right to speak out.
Sending your message, please wait …

GD Star Rating
loading...
Article source: IFAW