Are you ready for (cue ominous music) … Snakes on a Train?
No, it's not the sequel to that (in)famous Samuel L. Jackson film—although it is the title of a straight-to-video
rip-off. In this case, it's a new PETA campaign that is sure to get some
attention for reptiles
killed for their skins.
What Are Your Hands
Holding?
PETA is asking the Massachusetts Bay Transportation
Authority (MBTA) for permission to launch its new "Snakes on a Train"
campaign on the T, featuring realistic-looking rubber snakes wrapped around subway poles and
handles, as well as a slogan on the windows that reads, "Snakes Make Your
Skin Crawl? Shed All Scaly Belts and Bags! Watch Video at
PETA.org":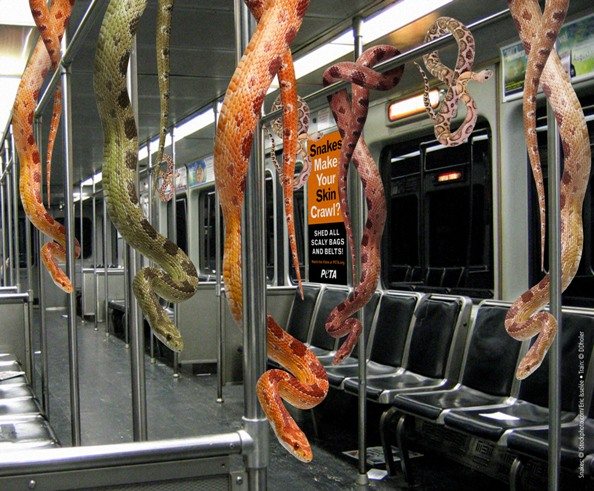 PETA hopes to scare commuters out of their snakeskin boots,
shoes, purses, and belts. In order to make snakeskin accessories, these
reptiles are nailed to trees or posts and skinned alive. Their mutilated bodies
are discarded, and it sometimes takes hours for them to die.
What if the MBTA denies our request? Let's just say it will
be no surprise if local members take it upon themselves to add rubber reptiles
to the rails …
How You Can Help
Snakes
If you wouldn't want to hold on to a snake during your
commute, why would you want to have their dead flesh wrapped around your waist,
feet, or personal belongings? Let's shed exotic skins for good.
GD Star Rating
loading...
Article source: PETA Files