Idaho: Felony Animal Cruelty Law Leaves Room for Improvement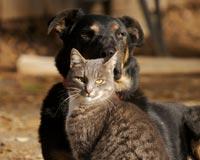 On April 3, 2012, Idaho Governor C. L. "Butch" Otter signed S 1303 which adds a felony provision to Idaho's animal cruelty law. The law becomes effective on July 1.
However, under the new law, an animal abuser could only be charged with a felony if he had two prior convictions within the last 15 years for animal cruelty involving "intentional and malicious infliction of pain, physical suffering, injury or death," with each conviction counting as one violation, regardless of the number of counts. The maximum penalty is 12 months in jail or a $9,000 fine – a penalty more typical of misdemeanor violations.
The new law also adds felony provisions for organizing cockfights when drugs or gambling are involved, and on the second offense in some other cases.
While this new law is a step in the right direction, it leaves a lot of room for improvement.
Take Action!
Please take a moment today to thank Governor Otter by filling out the form at the governor's website. Urge him to support future strengthening of the animal cruelty law with provisions for felony convictions on the first offense and meaningful penalties for violators.
Sample letter
Message Topic:
Miscellaneous
Message:
Dear Governor Otter,
Thank you for signing S 1303 which adds felony provisions to the state animal cruelty law. However, under this law, perpetrators of animal torture could only be charged with a felony on their third offense and receive a maximum penalty of 12 months in jail. I urge you to support further strengthening of laws against animal cruelty to allow for felony convictions on the first offense and meaningful penalties for abusers. Give law enforcement the tools they need to stop animal abuse.
GD Star Rating
loading...
Article source: IFAW