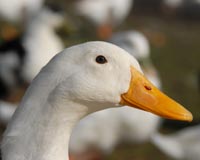 In 2004, California's legislature passed SB 1520, banning the sale and production of force-fed foie gras effective July 1, 2012. By passing this historic bill, the first state-level ban on force-feeding, California took an important stand against one of the most horrific forms of institutionalized animal cruelty.
Now, only weeks before the ban goes into effect, a small group of foie gras vendors and producers are trying to repeal SB 1520 and keep force-feeding legal.
John Burton, SB 1520's sponsor in the state legislature, wrote a seven-year delay into the force-feeding ban so the foie gras industry could develop alternative methods of production. Instead, foie gras producers have squandered their time clinging to inhumane practices. "I gave them seven years – seven years, and I shouldn't have – and now they're all going, `Oh my God, I just don't know how we're going to survive,'" said Burton. "I'm so infuriated with the bad faith going on here that words cannot describe it."
Opposition to the ban is largely funded by out-of-state foie gras producers and distributors who do not represent Californians' interests. While Californians have made it clear that they don't want force-fed foie gras in their state, those who sell this inhumane luxury food have a strong financial incentive to keep the market open. In order to protect the interests of the state, and to help the hundreds of thousands of ducks subjected to force-feeding every year in this country, it is important to hold fast and make sure the ban takes effect as scheduled.
Take Action!
Please contact your state legislators today and urge them to support the SB 1520 ban on force-fed foie gras. California has spoken out against this terrible form of animal cruelty, and a small group of foie gras industry insiders must not be allowed to undermine this groundbreaking piece of legislation.
Speak out against force-feeding ducks and geese today!
Sending your message, please wait …

GD Star Rating
loading...
Article source: IFAW