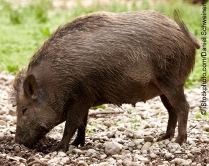 Tomorrow, June 5, at 9
a.m., Sarasota County
officials will discuss
and vote on a proposal that would implement
a three-day feral hog hunt in an attempt to control populations in Deer Prairie
Creek Preserve. The
plan would allow hunters
to run down and kill feral hogs with the use of dogs!
When a hog is
caught, the dogs play tug-of-war with the animal's body. They latch
on to the hog's face, ears, or throat,
causing painful injuries, until the hunter stabs the animal to death. These hunts also
leave orphaned young to starve, and the dogs
themselves are often severely injured by cornered feral hogs. Graphic video
footage of feral hog hunting with dogs can be viewed here.
If you live in
Sarasota County, please attend the meeting, along with everyone you know, and urge
Sarasota County officials to stick with humane hog management methods
instead. If you cannot attend the meeting or live outside the area, please e-mail
officials at the following addresses: cmason@scgov.net, jbarbett@scgov.net, crobinson@scgov.net, npatters@scgov.net, and jthaxton@scgov.net.
GD Star Rating
loading...
Ask Sarasota County, Florida, to Oppose Cruel Hunt!,
Article source: PETA Action Alerts