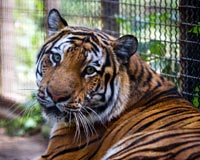 Protect big cats and public safety! Wild and exotic animals are best left in the wild, not kept as "pets."
In the U.S. an estimated 10,000 – 20,000 big cats are currently in private hands, causing significant public safety concerns by endangering neighbors — including children and pets — as well as officers who act as first responders.
The animals are frequently victims of neglect, living in deplorable conditions. Additionally, some captors might use the animals for illegal international trade in their parts.Taxpayers and local agencies bear a high financial burden when dangerous animals escape or when they are seized due to cruelty and neglect.
The Big Cats and Public Safety Protection Act (H.R. 4122) would help stem the exotic "pet" trade by strengthening provisions in federal law by prohibiting future breeding, possessing, or owning of lions, tigers, and other big cats. The bill also would require people who currently possess big cats to register those animals with the United States Department of Agriculture (USDA). This bill amends the Lacey Act, which already provides exemptions for government agencies and wildlife sanctuaries. H.R. 4122 adds an exemption for accredited zoos, too.
Take Action!
Ask key committee chairs and your Congressional representative to support the Big Cats and Public Safety Protection Act to protect people and animals! H.R. 4122 has bipartisan support, but it is languishing in a subcommittee of the House Committee on Natural Resources. Please take action today!
Sending your message, please wait …

GD Star Rating
loading...
Article source: IFAW