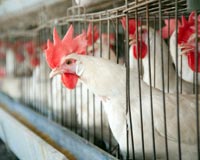 The U.S. Senate is now considering the Farm Bill, which has broad powers to regulate agricultural activities. The Farm Bill includes an amendment that would set standards for how egg-laying hens are treated by farmers, and how eggs are labeled at the grocery store.
If approved, the Feinstein Amendment (No. 2252) will lead to major improvements in the treatment of more than 250 million egg-laying hens.
If passed, the amendment would:
Double the amount of space per bird
Ban forced starvation molting
Prohibit excessive levels of ammonia in hen houses
Require humane euthanasia of spent hens
The amendment was filed by Sen. Dianne Feinstein and is cosponsored by a bipartisan group of a dozen senators.
Please write a brief, polite email to your U.S. Senators in support of the Feinstein amendment to the Farm Bill to improve the lives of egg-laying hens.
Sending your message, please wait …

GD Star Rating
loading...
Article source: IFAW