PETA has received shocking photos of birds trapped and dying behind metal flashing on the roof overhang at Tanger Outlet Center in Tuscola, Illinois. A compassionate caller managed to free one of the birds, but the exhausted, injured animal died within minutes. Alarmingly, the Tanger Outlet Center manager hasn't returned our calls. Meanwhile, several terrified birds are dangerously wedged in the roof overhang!
Please demand that Tanger Outlet Center management and its corporate office immediately scour the building for trapped birds, free all trapped animals found, and get veterinary attention for any suffering animals. Remind them that Illinois law prohibits anyone from treating any animal cruelly!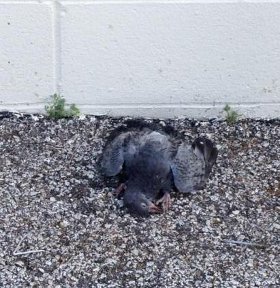 Please make polite phone calls to:
Maurice Mendenhall
Manager
Tanger Outlet Center—Tuscola
217-253-2282
1-866-665-8684 (toll-free)
217-840-0398 (cell)
Betty Coleman
Vice President of Operations
Tanger Factory Outlet Centers, Inc.
336-292-3010
GD Star Rating
loading...
Article source: PETA Action Alerts