When
United Airlines developed its "Let's Fly Together" slogan, the airline failed to
inform its customers about the hidden travelers they would be flying together
with.
Each
year, tens of thousands of monkeys—many of whom are torn away from their homes
and families in the wild—are flown to the U.S. from countries such as China,
Mauritius, Cambodia, Vietnam, and Indonesia to be imprisoned and tormented in experiments at horrendous facilities such as Shin Nippon Biomedical
Laboratories and Covance, two of the U.S.' largest importers of primates.
These
monkeys are crammed into small wooden crates and are often shipped in the dark
and terrifying cargo holds of flights on airlines such as United Airlines' subsidiary Continental Cargo. Other cruel airlines that continue to
profit from monkeys' misery by shipping them to U.S. laboratories include Air
China, Air France, China Eastern Airlines, Philippine Airlines, and Vietnam
Airlines.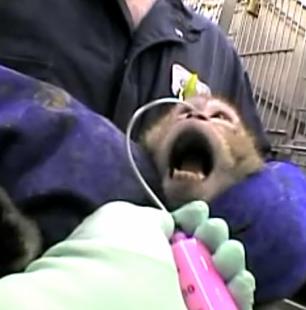 Thankfully,
nearly every major
airline in the world refuses to transport monkeys to laboratories—so you can still get to your destination knowing that you are not contributing to
the suffering of monkeys in laboratories. These airlines include Delta Air
Lines, Qantas, Lufthansa, American Airlines, British Airways, Aer Lingus, and
Cathay Pacific, to name a few.
In
addition to not booking a flight with United Airlines and the other heartless airlines that transport monkeys to U.S. laboratories, please take another step to help end this cruel practice by urging these airlines to adopt a policy against the transportation of monkeys destined for laboratories.
Also, take a moment of your time to let United Airlines know that you will not be flying
with the airline until it stops transporting monkeys to laboratories:
●     Post a message on United Airlines' Facebook page.
●     Tweet at United Airlines on Twitter.
●     Send an e-mail directly to United Airlines. 
GD Star Rating
loading...
Article source: PETA Action Alerts