Athletes
from around the world have made their way to the Olympic stage in London,
thanks to their hard work and dedication to their sport. This talented bunch
may still be going for the gold in London, but they've already won in the eyes
of the animals in their lives. We thank these athletes for their dedication to
the happiness of animals everywhere:
Candace
Parker plays some mean defense for the U.S. women's basketball team, but when
she's not shooting hoops, she's defending animals used for fur. Candace and her
dog Fendi teamed up with PETA for this PSA to fight the fur industry: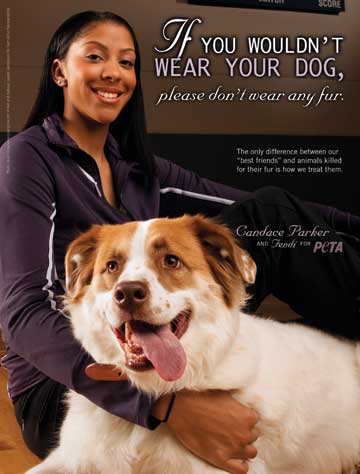 Lizzie
Armitstead just brought home a silver medal for her team in cycling, but this U.K.
native has been winning for animals since she was 10, when she adopted her
vegetarian diet.
Michael
Phelps just became the most decorated Olympic athlete ever, but he's always
been the best in the eyes of his shelter dog Stella.
Every
time Dylan Wykes crosses the finish line, animals everywhere cheer! A Canadian marathon
runner, he shuns meat because of ethical concerns.
This
American water polo captain was once dubbed "The Savior" in college. Tony
Azevedo was definitely a savior to his adopted cat Snow when he gave her a home
after kids threw her into the ocean.
This
American sprinter has cat-like reflexes on the track, and it's no wonder! Carmelita
Jeter probably learned them from her five rescued cats. Hopefully there's a
gold medal in her future, but she definitely gets a gold star from us!
Want to use your athletic skills to help
animals?
Join
the PETA Pack
to stop animal abuse, get in shape, and have fun! Join the team or support a runner
today.
GD Star Rating
loading...
Article source: PETA Action Alerts