Update:
We have some wonderful news to report—after years of lonely
captivity at Jambbas Ranch Tours, Ben the bear now has a bright new life! The judge in a lawsuit brought
by local citizens, who were represented by PETA,
the Animal Legal Defense Fund, and local counsel, issued an order that terminates Jambbas' ownership of Ben and states
that the bear can remain permanently at the Performing Animal Welfare Society sanctuary, where he enjoys acres of natural habitat, rolling hills, his own pool in which he
splashes and plays, and trees to scratch his back on.
The order also prohibits Jambbas from acquiring any more bears.
But other animals already
at Jambbas
are still living in miserable, inadequate conditions. Please join PETA in urging U.S. Department of Agriculture
officials to revoke Jambbas' license today!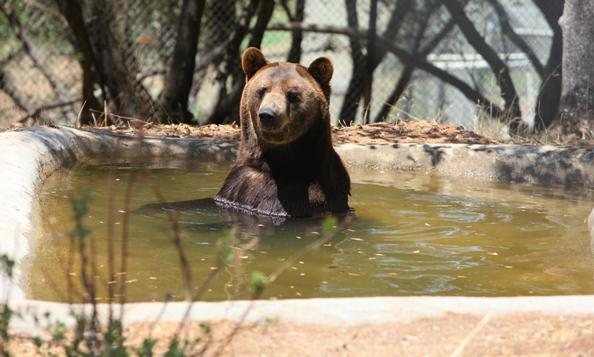 Originally posted April 19:
Citizens
of Cumberland County, North Carolina, who are sickened by Jambbas Ranch Tours' pervasive neglect and abuse of animals have joined PETA and the Animal Legal
Defense Fund in suing the U.S. Department of Agriculture (USDA) over its renewal
of Jambbas' license despite chronic violations of the Animal Welfare Act (AWA).
The
AWA allows an animal exhibitor or dealer to have his or her license renewed only
if the person's business operates in accordance with AWA regulations. But the
USDA has repeatedly renewed Jambbas' license despite the fact that every single inspection of the roadside
zoo between October 2006 and January 2012 resulted in citations for AWA violations
including the following:
Failing
to provide animals with veterinary care—dead
goats were also found lying near live ones
Allowing
bison to be swarmed by flies until their skin was so
irritated that they licked and bit at it, exposing raw flesh
Forcing
potbellied pigs to live in enclosures with "excessive accumulation of
feces"
Forcing
goats to live in enclosures covered with a "layer of feces," which
left them with no clean place to lie down.
This
is the second pending lawsuit involving Jambbas Ranch. The other suit seeks to
have an abused bear named
Ben removed from Jambbas and relocated to a sanctuary where PETA has made arrangements
for him to live. In this sad video, Ben paces in his barren cage, bites the
chain-link fencing, pushes against it, and tries to reach under it—behavior a
bear expert has identified as a cry for help:
In
asking the USDA not to renew Jambbas' license, PETA also pointed out several
violations of the AWA that relate to Ben, including a lack of adequate space,
which is likely causing his repetitive, abnormal behavior.
Jambbas
is clearly not qualified to possess an AWA license. We will keep you updated as
the lawsuit progresses.
GD Star Rating
loading...
Article source: PETA Files