For decades, countless cats have been imprisoned, cut into, and killed in
cruel and useless "sound localization" experiments at the University
of Wisconsin–Madison (UW).
When PETA learned that UW
experimenters took photographs to document this abuse, we demanded that the
school release the photos. Knowing that the public would be outraged if the
truth came out, UW fought to keep its cruelty a secret for more than three
years, but a successful PETA lawsuit compelled the university to release the
images. PETA has now obtained dozens of disturbing never-before-seen
photographs showing the miserable life and death of a beautiful orange tabby
cat named Double Trouble, who was tormented for months in these experiments.
According to records obtained by PETA, Double
Trouble was subjected to several invasive surgeries on her eyes, ears, and brain.
In the first operation, steel coils were implanted into her eyes and a stainless
steel post was screwed into her skull so that her head could be immobilized
during experiments. In the next surgery—which is depicted in the photographs—Double
Trouble had holes drilled into her skull so that electrodes could be inserted in
her brain. Experimenters then applied a toxic substance to her inner ears to
deafen her and electrical implants were placed deep inside both of her ears.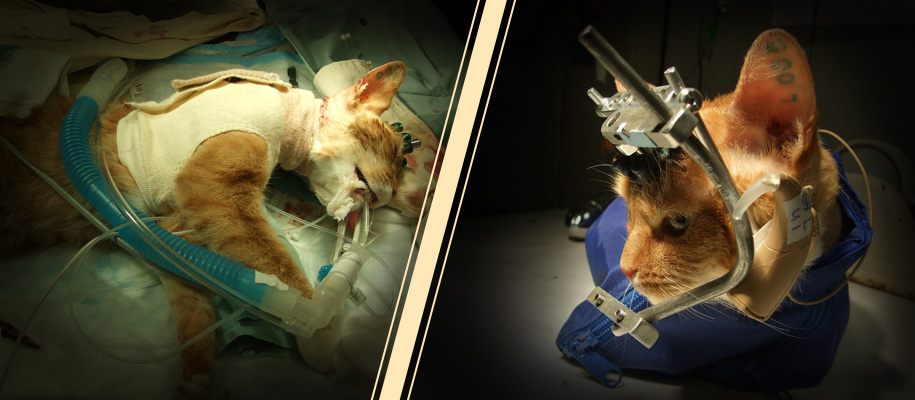 Records
show that Double Trouble's anesthesia wore off during this surgery and she woke
up to what was likely a painful and horrifying experience as experimenters were
cutting into her head and skull. Another cat in the same laboratory also woke
up in the middle of a similar surgery.
Following the surgeries, Double Trouble was
subjected to experimental sessions in which her head was bolted in place and
she was restrained in a nylon bag and forced to listen to sounds coming from
different directions. Double Trouble was deprived of food for several days
before these sessions in order to coerce her into cooperating in exchange for a
morsel of food.
Double Trouble's health rapidly deteriorated. Records
say that she was observed twitching, which the clinical notes indicate was a "neurological
sign." Her face became partially paralyzed and the head wound that
experimenters created during surgery also never healed. More than three months
after her last surgery, the records describe her wound as "open, moist
w/bloody purulent discharge, [with] moderate swelling."
An antibiotic-resistant bacterial infection resulted
from Double Trouble's wound, but experimenters still forced her to endure almost
two months of this misery. One of the last entries in Double Trouble's records
states that she "appear[ed] … depressed." In the end, she was killed
and decapitated so that experimenters could cut apart her brain. 
Experimenters
justified the use of 30 cats per year not by saying that the experiments would lead
to improvements in human health but rather by stating that they needed to "keep
up a productive publication record that ensures our constant funding."
However, no peer-reviewed papers have been published
in any scientific journals as a result of the suffering that Double Trouble endured.
Correspondence between UW experimenters and their collaborators acknowledge
that there was a problem with Double Trouble's surgery; the experiment was a failure.
This cruel and useless experiment is part of a
larger ongoing project that has received more than $3 million in tax money through
the National Institutes of Health (NIH) with the stated purpose of understanding
how the brain determines the location of a sound. But researchers at
prestigious institutions around the world are already using modern methods with
human volunteers to investigate this question.
PETA has called on federal officials to investigate
the life and death of Double Trouble and to take swift disciplinary action
against UW–Madison for what appear to be egregious violations of federal
animal welfare laws.
You can help other cats like Double Trouble by
clicking below and joining PETA in asking that NIH cut funding for these cruel
and worthless experiments. 
GD Star Rating
loading...
Article source: PETA Action Alerts