During PETA President Ingrid E. Newkirk's recent trip to work with our friends at PETA India and Animal Rahat, the Indian working-animal rescue group that PETA supports, she took part in an impromptu rescue herself (as she is—and more of us should be—regularly inclined to do). As she explains:
We were stuck in traffic. If there had been lanes, it would have been about four lanes on either side of the concrete wall on which people live—their laundry hanging on a string, their babies sitting up there, the works. The road is filled with beggar children, many from crime syndicates, just like in Slumdog Millionaire.

Beside the wall, there were two children painting a baby's face with lipstick. One dangled a skinny kitten in the crook of her arm, inches from the cars. We rummaged in our toy bag, selected a stuffed tiger, leapt out of the car, and offered the swap. The children were delighted with their new toy, and we were delighted to have saved a small cat from a bad end.

Safe in the car, with a lap to curl into, the kitten fell instantly asleep and, oblivious to all honking and motor noise, slept as if he'd never slept before. We named him Craig after the PETA patron who had helped make this trip possible.
You'll be glad to know that Craig has been adopted and is now a cherished companion.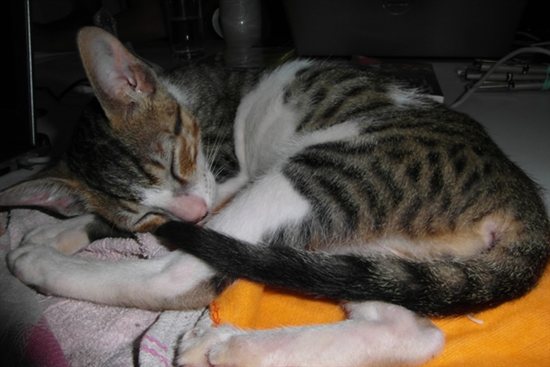 Every day, Animal Rahat is working to make India a kinder place for animals—especially the bullocks, donkeys, and other working animals who are commonly abused and neglected. Please help Animal Rahat by making a donation to support its lifesaving efforts.
GD Star Rating
loading...
Article source: PETA Files