Miley
Cyrus
might be ditching dairy products, and we're nodding our heads like "Yeah!"
It all started when Mileybird tweeted, "Worst tummy ache ever. No more lactose for me." We
quickly responded to tell Miley that she wasn't alone and that she should be
proud to be dairy-free. We included a link to information on delicious dairy-free
milks and a link to one
of our undercover investigations of a dairy farm,
and Miley responded, "[O]h my god those photos make me feel even more
sick. HAS GOT TO STOP!"
Then she retweeted our action alert asking Walmart to ban its suppliers from cruelly confining pigs to gestation
crates. If Miley wants help planning a vegan wedding, her friends here are happy to
help …
It looks like there's a vegan baby
shower in Kristen Bell and
Dax Shepard's future. The cruelty-free couple is expecting their first child, and PETA sent Kristen what might be her first gift: a copy of  Skinny Bitch: Bun in the Oven. 
There might be a
new baby in Kristen
Stewart's future as well. She and boyfriend Robert Pattinson are reportedly thinking about rescuing another dog. 
Rescued dogs are always the rage on Twitter, like Krysten Ritter's little
guy, Mikey.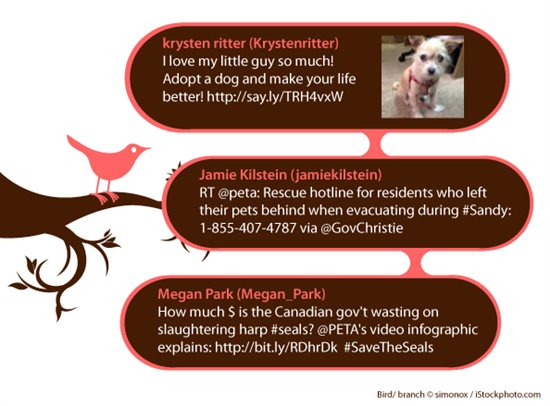 And it's a battle of the accents for our
favorite gal this week:
French beauty Marion Cotillard and SeaWorld are never, ever, ever getting back together. The actor
plays a marine park trainer in the controversial new film Rust and Bone, and she says that seeing marine mammals in captivity
made her believe that they deserve better. "I'd rather see whales in their
own environment and not in a swimming pool," she said. "I will never
go back to a SeaWorld."
Irish-bred Hollywood legend
Anjelica Huston told O Magazine that she enjoys
working with PETA because "I think we have to pay more attention to how we
treat animals: the great
apes trained for our entertainment, carriage horses left outside in intense heat and cold, polar bears confined in zoos. Animals can't talk, so it's up to us to speak for them."
Aussie actor
and vegetarian Sophie Monk
is designing a diamond jewelry collection and plans
to donate 10 percent of the
proceeds to help PETA save animals. 
And everyone's favorite animal-friendly
designer, Stella
McCartney, is the Brits' favorite designer, too: She was named British Designer of the Year, proving that
compassion is always in fashion and never has to include skins stolen from animals. 
To keep up with what all your favorite
stars are doing for animals, follow @PETA on Twitter. 
GD Star Rating
loading...
Article source: PETA Files