Give a Meaningful Sentence to Accused Cat Mutilator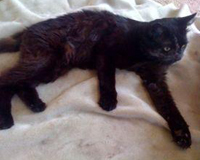 "Little Man" was allegedly abused by Andrew Bekech. (Photo by Republican American)

Among the criminal charges pending against Andrew Bekech are two counts of felony animal cruelty related to the alleged abuse of his ex-girlfriend's cats. Mr. Bekech was arrested in September 2012 after a domestic violence investigation reportedly revealed several incidents involving physical attacks on the woman's cats. One of the cats—Little Man—reportedly continues to recover after losing part of his tail as well as a portion of his tongue.
The Bekech case is but one of countless cases illustrating the grave connection between domestic violence and animal abuse. Abusers often threaten and carry out acts of animal cruelty, taking advantage of their human victim's bond with their animal(s) as a means of intimidation and control.
It is not unusual for women to cite fear for the safety of their animals as a reason for not entering a shelter to escape their abusers. In a 2007 study, for example:"The vast majority of shelter women described being emotionally close to their pets and distraught by the abuse family pets experienced."
Take Action
Locals especially are encouraged to write polite letters to State's Attorney Platt, thanking her office for its earnest attention to this case to date, and encouraging that a strong and meaningful sentence be pursued upon conviction.
The Honorable Maureen Platt, State's Attorney
Geographical Area No. 4
400 Grand Street
Waterbury, CT 06702
conndcj@ct.gov
Defendant: Andrew Eugene Bekech
Waterbury Superior Court case #U04W-CR12-0411324-S
Locals are additionally encouraged to support the prosecution by attending the criminal proceedings. A hearing in the Bekech case is currently scheduled for Tuesday, November 27, 2012 at 10:00am. (Always contact the Court to confirm court dates and locations as they are subject to change.)
Waterbury Superior Court (get directions)
Geographical Area 4
400 Grand Street
Waterbury, CT 06702
203-236-8100
GD Star Rating
loading...
Article source: IFAW