Take Action to Put Animals Back in the Animal Welfare Act!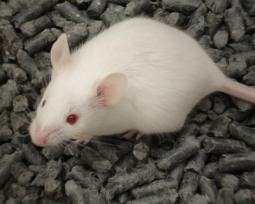 (Photo by Rick Eh)

The Animal Welfare Act currently fails to protect 95% of all animals used in research and testing. This undermines the purpose of the law: to provide humane treatment for these animals. In 2002 a rider to the Farm Bill removed protections for rats, mice, and birds, subjecting them to poorly conducted animal research without sufficient review.
Working with ALDF, U.S. House Representative Gerald Connolly (D-VA) has introduced a bill that restores coverage for rats, mice, and birds under the AWA. The bill will:
Fix the massive carve-out of 95 percent of animals in research. Rats, mice, and birds compose 95 percent of the animals used in research. Restoring their protections will help fulfill the purpose for which the AWA was designed.
Fit the commonsense definition of animal. The AWA currently does not define rats, mice, and birds as "animals."
Protect sentient beings from laboratory abuse. Without AWA oversight, many rats, mice, and birds suffer unnecessarily from shoddy experiments and research practices. For example, a USDA inspector discovered a rat dying in a University of Hawaii freezer, yet could not enforce this "egregious lack of humane care" because rats are not protected.
Provide researchers and the country long-term economic benefit. By putting researchers in a system of pre-experiment review, AWA coverage of rats, mice, and birds will eliminate poorly conducted scientific experiments and testing. Such review will improve science, bolster the economy in the long-term, and stop taxpayers from funding wasteful research.
Create minimal impact on the USDA and industry. Oversight from USDA will provide sweeping animal welfare benefits at little cost. Regulatory infrastructure has existed for years and will easily transition into oversight.
Take Action

Please contact your legislators today to ask them to co-sponsor Representative Connolly's necessary bill—and urge them to put animals back in the Animal Welfare Act.
Share
Please help us get the word out about this crucial piece of legislation.
More Information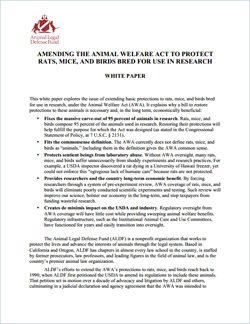 ALDF attorneys have produced a white paper, "Amending the Animal Welfare Act to Protect Rats, Mice, and
Birds Bred for Use in Research," that explores the issue of extending basic protections to rats, mice, and birds bred
for use in research, under the Animal Welfare Act (AWA). The white paper explains why a bill to restore protections to these animals is necessary and, in the long term, economically beneficial.
Download the white paper now to familiarize yourself with the Animal Welfare Act, and how the proposed changes will further protect animals used in research.
GD Star Rating
loading...
Article source: IFAW