Actor
Torrey DeVitto has an important message for students everywhere: When it comes to animal
dissection, you have a choice. Torrey already speaks to teenagers through her
roles on ABC Family's Pretty Little Liars and The CW's The Vampire Diaries, but now she's playing a huge role for animals and asking students, If you
wouldn't dissect your companion animal, then why would you dissect any animal?
Many
students go along with this cruel practice because they aren't aware that they
have a choice. Torrey felt the same way, saying, "The whole thing just seemed
so wrong and so creepy, but I didn't think I had an option." Now, there
are wonderful modern-day alternatives
to dissection for those who are morally opposed to cutting up dead
animals who suffered greatly before their carcasses reached the classrooms. Most animals killed for dissection live in filthy, cramped conditions until the
day they die for classroom experiments. Not only does virtual dissection save
animals, it also saves schools money and helps the environment by sparing the
use of toxic chemicals typically used to embalm animals.
In
Torrey's ad for PETA, she is holding an adorable adopted kitty to encourage
students to exercise their right to say no to dissection and to choose virtual
dissection instead:
Stand
up for your right not to dissect and learn even more by asking your teacher
about virtual dissection. View your cruelty-free dissection options by opening
the notebook below: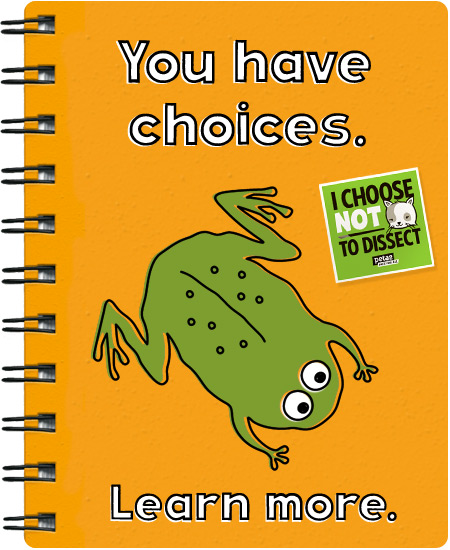 GD Star Rating
loading...
Article source: PETA Action Alerts