The notorious Hawthorn Corporation, which is owned by John Cuneo, has one of the most sordid histories of animal abuse and neglect in the circus industry. For two decades, its egregious violations of the Animal Welfare Act (AWA) have continued undeterred despite more than 100 U.S. Department of Agriculture (USDA) citations for AWA violations, including failing to provide animals with proper veterinary care, denying animals adequate space for months on end, failing to provide animals with adequate nutrition, and physical abuse of animals. In fact, Hawthorn was the subject of the USDA's first elephant confiscation in U.S. history. The USDA seized an elephant named Delhi from Hawthorn and ordered Hawthorn to relinquish 16 additional elephants after finding Delhi in imminent danger because of untreated chemical burns she sustained after Hawthorn forced her to stand in undiluted formaldehyde. The USDA took a number of additional enforcement actions against Hawthorn—resulting in license suspensions and more than a quarter of a million dollars in fines—which have proved to be entirely ineffective at deterring Hawthorn from continuing to flagrantly neglect and abuse animals.  
Hawthorn also has a history of illegally exhibiting animals without a valid license. In fact, since October 2012, Lance Ramos—another serial animal abuser and AWA violator, whose license was revoked in 2009 for numerous serious AWA violations, including using physical abuse to train exotic cats to the point that at least one lion died—has been illegally exhibiting tigers on behalf of Hawthorn in numerous circus performances. By allowing a documented animal abuser like Ramos to act as its tiger trainer and exhibitor, Hawthorn further demonstrates its continued priority of putting profits above the welfare of the animals it forces to perform. 
Cuneo and Hawthorn should never be allowed to exhibit animals for profit again. Please join PETA in urging the USDA to revoke Hawthorn's license and permanently disqualify Cuneo and his employees and agents from obtaining a USDA license. 
Please send a polite e-mail to Ramona Romero, USDA general counsel (at ramona.romero@osec.usda.gov), and urge her to ensure that the USDA revokes Hawthorn's exhibitor license. Feel free to use our sample letter, but remember that using your own words is always more effective. 
Please also share this important information with your family and friends.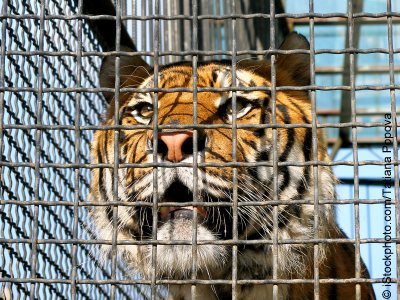 GD Star Rating
loading...
Article source: PETA Action Alerts