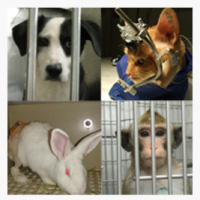 Every day, animals are beaten, confined to tiny spaces, skinned alive, and painfully killed. These animals are like you and me, born with desires, emotion, and intelligence.
Your donation today supports PETA's work to free all animals from exploitation, cruelty, and abuse. Our undercover investigations, attention-grabbing demonstrations, and hard-hitting advocacy campaigns are making a real difference for animals every single day.
Help animals live free: Become a PETA member by July 4!
GD Star Rating
loading...
Article source: PETA Action Alerts