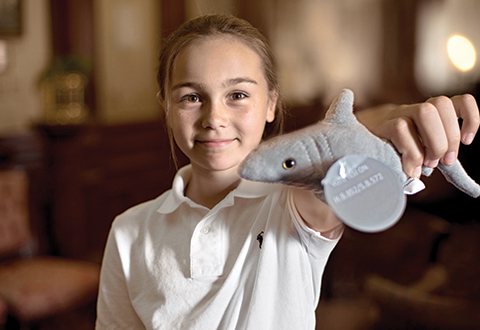 Shark finning involves cutting off the fins of sharks then throwing the shark back into the ocean to die. The fins are used to make shark fin soup. Some sharks are close to extinction because of the shark fin trade.
Diving into the fight
When Sawyer learned about this cruel practice she "had to do something about it." She created a website where other people can learn what is happening to sharks. There she wrote, "You may think that they are just sharks, not as friendly or as cute as puppies. But they are still alive and can still think and feel. They are not that different at all."
Her online petition to stop shark finning has gathered around 300 signatures. And along with her friend Sam Mathieu and her father, actor Kyle Chandler, Sawyer went to her state capitol to ask legislators to pass a law to protect sharks. If passed, Texas would be the first Gulf Coast state, and the ninth state nationwide, to crack down on the cruel and unnecessary shark fin trade.
Sawyer also met with Texas Gov. Rick Perry. "I told him what's been happening to sharks, and I explained why I think the bill should be passed," she says. "I am glad that these politicians are listening to an 11-year-old!"
Tell us how you've been helping animals!
Send photos and details, along with an email address and phone number, to [email protected] or to:
Humane Heroes, c/o Kind News, The HSUS
2100 L Street, NW, Washington, DC 20037
GD Star Rating
loading...
Article source: HSUS