PETA has dedicated many resources through the years to creating websites that both inspire and inform. Thanks to PETA's online content, millions of people have been exposed to the horrors that animals endure in the food, fashion, testing, and entertainment industries.
Now we're delighted to give you a sneak peek at our newest website—the revamped PETA.org!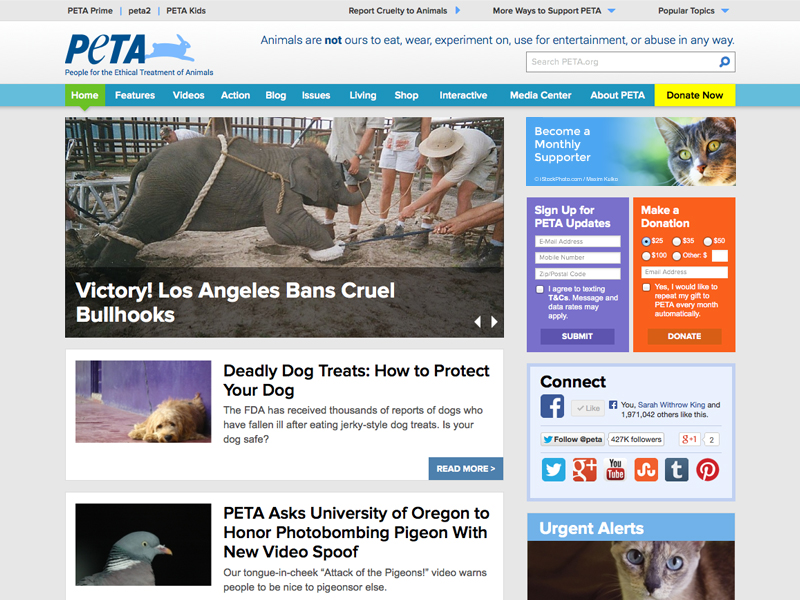 Our
new website is still in the beta stage, meaning that we're still testing it
before the official launch. We hope you will take some time to explore the beta
site and then send us your feedback by filling in the comments field below.
You're getting a first look into the future of PETA.org!
What Is a Beta Site?
In
short, a beta site is used for testing. During the testing period, the site is
open to the public and feedback is strongly encouraged. This is the time to
identify any bugs or problems so that they can be resolved prior to the site's
launch.
In order to make the transition run more smoothly, we're currently hosting both our existing site and the beta site simultaneously.
Please
note that links to the beta site will expire when the site goes live.
Report Issues
We'd
love to get your feedback! Please use the comment field below to report any
issues that you may have experienced while browsing the beta site. Please
include the URL for the page on which you're experiencing problems.
Any
other comments that you may have about the beta site are welcome as well.
GD Star Rating
loading...
Article source: PETA Files