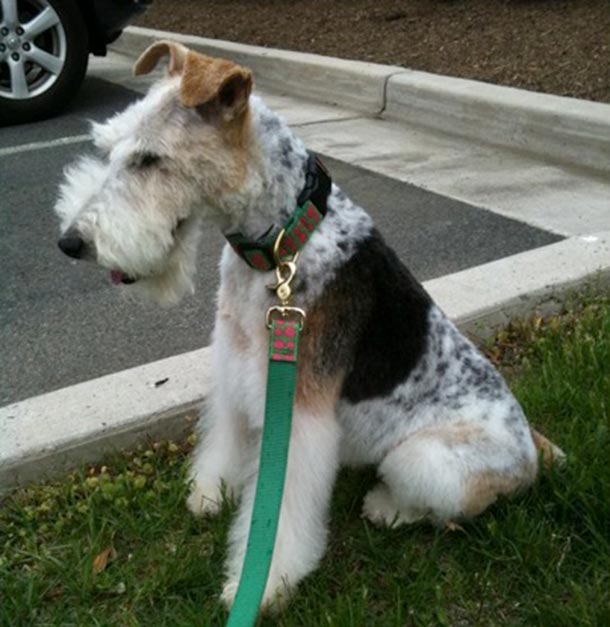 For the Super Bowl game at MetLife Stadium earlier this month, I was neither on team Seattle nor team Denver. Honestly, I was more on team Bruno Mars.
This week however, at the 134th annual Westminster Dog Show held at Madison Square Garden in New York City, my family and I were clearly team Sky, the wire fox terrier who during the show's grand finale was one of seven finalists competing for the show's ultimate prize, Best in Show.
Sky's competition was tough; gorgeous winners from the six other groups included the standard poodle, the bloodhound, the Portuguese water dog, the Irish water spaniel, and the miniature pincher.  My family cheered and shared high-fives when Sky was named America's top dog. We celebrated in part because we share our home with our very own beloved wire fox terrier, Rhiannon Mac, whom I adopted from a breed rescue group in 2004.
Although I celebrated the Wire's victory, I soon began to worry about how winning this televised event and the publicity that would follow might cause unnecessary harm to my beloved breed. While the American Kennel Club (AKC), the group that runs Westminster, advocates for healthy purebred dogs as mandated by the AKC's published breed standards, there are scores of individuals who breed dogs only for profit, dismissing the health and behavioral needs required to keep breeding dogs and their offspring healthy and emotionally stable.
Currently, according to the AKC, wire fox terriers rank as the 96th most registered dog (American Kennel Club Dog Registration Statistics, 2013).
Will this week's win cause that to change?
Will some breeders start making more wire puppies available advertised as America's dog of 2014?
As a Program Officer at the International Fund for Animal Welfare (IFAW) and a member of IFAW's Animal Rescue/Disaster Response team, I have seen first-hand the suffering endured by dogs rescued from puppy mills.
I have worked for IFAW in temporary shelters where these traumatized and sometimes sick animals are housed and cared for while their owners are under criminal investigation. I used to work for my local animal shelter that occasionally received rescued puppy mill dogs that would then go up for adoption to the public.
While many dogs entering a shelter system are initially scared and weary, dogs rescued from puppy mills often remain fearful for quite some time as they have not had the adequate socialization required for puppies to grow into secure and confident dogs. 
While for Westminster I was on team Wire, every day I am really on team Canine never wanting a dog to suffer as a result of fluctuating market demands of one breed versus another. If the dog show sparks demand for wire fox terriers, or any of the other hundreds of breeds exhibited during the show, I strongly hope those interested in a specific breed will do their research and consider acquiring one by visiting local shelters where many purebreds end up and/or by contacting breed rescue groups.
If people insist on buying a puppy, I hope they take care to visit the sellers location and make sure the facilities are clean and comfortable for all of the dogs there. And I certainly hope people are not inspired to purchase dogs online.
IFAW's 2012 report on online puppy sales, How Much is that Doggie on my Browser? The Truth Behind Online Puppy Sales, demonstrates how the majority of dogs sold online may come from puppy mills.
I applaud the AKC Best in Show judge for her good taste in selecting a wire fox terrier as the 2014 Westminster winner.
I will celebrate this victory by spending time with my own little champion, Rhiannon.
As far as answering questions about how people can acquire their own wire fox terrier; like IFAW, I will continue to proactively take a stand against puppy mills by encouraging adoption from local shelters, responsible local breeders, and one of the many rescue groups dedicated to the wire fox terrier.
–KJ
GD Star Rating
loading...
Article source: IFAW