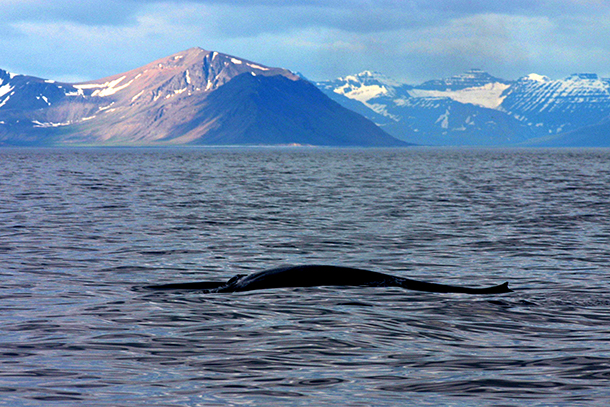 IFAW is embarking on an exciting new collaborative project that could make a real impact on one of the world's most pressing whale welfare and conservation problems.
As ships cross the Indian Ocean, they follow the shipping lane close round the southern Sri Lankan coast. Unfortunately, this is also an important area for endangered blue whales. The result: worryingly high numbers of blues whales involved in often-fatal collisions with ships.
There have been a number of recent known whale deaths in the area and likely many more which have gone unnoticed. These numbers are clearly of great concern, both for the individual whales involved, which suffer terrible injuries, and for the northern Indian Ocean population as a whole, which is believed to already be very small.
High whale density and high levels of shipping just don't mix.
As well as being bad for the whales, mariners are also keen to avoid collisions, but it's often impossible, as they either don't see the whale in the first place, or cannot manoeuvre quickly enough. As we can't move the whales, this project is looking at whether we could move the ships. 
If there are fewer whales offshore, moving the shipping lane just a few miles further away from the coast could substantially reduce the collision risk. It won't make much difference to the shipping companies, but it would make a big difference to the whales.
This project, which has just started, is about comparing the coastal areas, where the ships are currently, and which are known to have high densities of whales, with more offshore areas.
Moving a major shipping lane is no quick job, and we need data on whale densities coastally and further offshore to make sure it's the right thing to do. Offshore shipping lanes are the responsibility of the International Maritime Organization (IMO).
The IMO has moved shipping lanes in other areas for the sake of whales but requires robust scientific data. In other areas ships have slowed down to reduce collision risks to whales, but avoiding areas with whales is generally the most effective solution if possible. In addition, mariners prefer a small diversion to slowing down.
IFAW has been working to address the ship strike/whale problem for many years. Now IFAW will be working with partners the Biosphere Foundation, the University of Ruhuna, Sri Lanka and local whale watching company, Raja and the Whales, surveying for blue whales to collect data on coastal and offshore whale densities. Although whale watch boats regularly go out to see the whales close to the coast, very little is known about what happens further offshore.
The first survey team has already started work, and the boat surveys will run until April of this year, and then in subsequent years. The best weather is expected during this time, which also seems to be the period when the whales migrate to southern Sri Lanka.
So far the team have reported plenty of whales in the shipping lane and none offshore – but it's very early days, and there are many, many more long days out at sea to come. However, it's a project which could really make a difference to blue whales in the Indian Ocean. I will shortly be travelling to Sri Lanka to join the next survey team and am really looking forward to getting out to sea.
–RL
For more information about IFAW efforts to protect whales, visit our campaign page.
GD Star Rating
loading...
Article source: IFAW