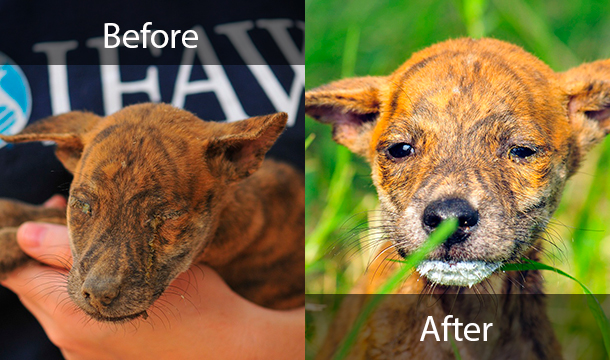 I am thrilled to report that Mambo is well on his way to a full recovery! 
Two weeks after he was found under a house, unable to open his eyes and barely able to lift his head, little Mambo is now spending his days with the other puppies at our Medical Clinic and Temporary Shelter for the animals affected by Mt. Sinabung. 
Related: Erupting volcano rescue: little Mambo the puppy fights for survival
He is slowly regaining his strength, not yet able to run around, but he is walking (and often choosing his own sunny spot in the grass to nap). It seems like he is seeing the world for the first time. Mambo often sits in the grass and looks up at the sky or watches as the other dogs romp around. We are thankful that we found him and were able to get him medical care before it was too late.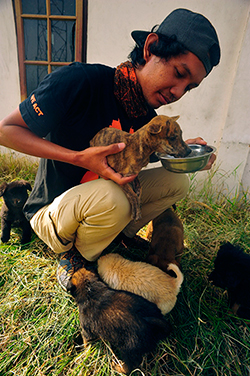 We are also grateful that we found a place to serve as both a shelter and a medical clinic. Thanks to your support, we have a safe place for animals to stay until they can return to their families.
Dogs like Mambo will receive ongoing care, and hopefully be reunited with their families once residents are allowed to return home. Regular meals, clean water and baths to rid them of dirt and fleas will help them feel better after weeks of nearly living on their own. And because volunteers will live at the shelter, the animals will also receive attention, which is particularly important for the puppies' socialization.
We don't know how long it will be until communities can return to their homes. Mt. Sinabung is said to be the most mysterious volcano in Indonesia. Scientists are unable to predict its eruptions, and with daily activity, the alert status remains at the highest level.
Working around an active, unpredictable volcano is very stressful. Each day, the team adhered to any warnings given, meaning some days, the villages could not be visited to feed the animals or work on rescuing them. Our local partners, The Centre for Orangutan Protection (COP) has spent three weeks carefully monitoring the situation and sending in their teams to feed when possible. 
Now that the shelter is open, animals from the most dangerous villages can be relocated to the shelter, which means the animals, the animal feeding teams and their owners will all be much safer.
–JG
Your support makes work like this possible, consider a donation in support of our efforts now.
GD Star Rating
loading...
Article source: IFAW