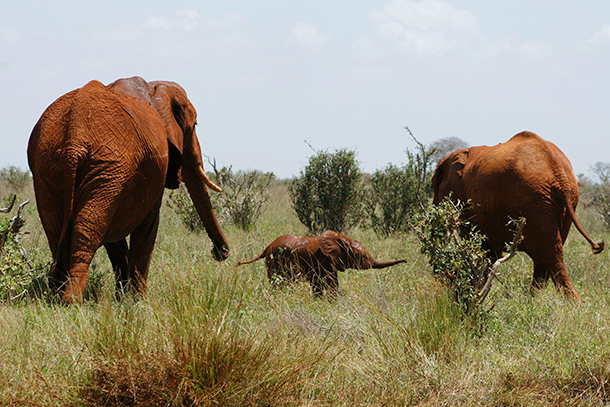 Whenever I talk about Americans' role in killing beautiful imperiled species through sport hunting, I almost always get the same shocked response: incredulous surprise followed by an exclamation that this couldn't possibly be legal!
Well I'm happy to say that as of last week, it's a little less so. 
On Friday, the US Fish Wildlife Service (Service) announced that they will be halting all imports into the US of sport-hunted trophy tusks form the nations of Tanzania and Zimbabwe. And while this seems like a no-brainer given the frightening elephant poaching crisis currently happening in Africa, it is still a bold and commendable move by the Service.
RELATED: What does the new US ivory ban mean for buyers, sellers, and elephants?
According to their press release:
"Questionable management practices, a lack of effective law enforcement and weak governance have resulted in uncontrolled poaching and catastrophic population declines of African elephants in Tanzania. In Zimbabwe, available data, though limited, indicate a significant decline in the elephant population. Anecdotal evidence, such as the widely publicized poisoning last year of 300 elephants in Hwange National Park, suggests that Zimbabwe's elephants are also under siege."
It's rare to see such unvarnished language from a government agency, and it speaks volumes to the seriousness of the situation.  
In stark contrast to the Service's well-thought out action and common-sense precautionary step toward saving African elephants, the extremist group Safari Club International (SCI) issued a press release before the decision was even announced, saying, "SCI will do everything in its power to fight this reckless decision" – a strange reaction for a group that claims "promoting wildlife conservation" is its mission.
As you probably know by now, elephants are being slaughtered by the tens of thousands each year for their ivory, a crisis that has mounted over the last decade as militant groups and organized criminal syndicates joined the fray – with fewer than 500,000 remaining continent-wide, these magnificent creatures are truly in danger of extinction in the wild.
And although the situation is grim, there has been tremendous progress in recent months, notably including the White House's new National Strategy for Combatting Wildlife Trafficking and the high-visibility activities of the FWS – crushing the US stockpile seized ivory and proposing a ban on domestic ivory sales. This latest step keeps that positive momentum rolling and could spell even more important moves to come.
While the US cannot control what is allowed to happen in other countries (other than through involvement in international forums and trade agreements), we can as a nation determine what is appropriate to allow across our borders. And again and again, the vast overwhelming majority of Americans have said in polls and in actions that trophy hunting of endangered species does not reflect our nations' values.
This ban of elephant trophies from Tanzania and Zimbabwe is a strong start, and it will hopefully be made permanent. The US government, NGOs like IFAW, private companies and foundations, and other nations are investing millions and millions of dollars to try to save this species. Allowing these same smart and gregarious animals to be brutally killed for sport at the same time is not only contradictory, it is just wrong.
The Fish Wildlife Service will also have two very important opportunities to advance the values most Americans – not just a small number of vainglorious special interest trophy hunters – want. Last year the Dallas Safari Club auctioned off the right to kill one of the last critically endangered black rhinos on a hunt in Namibia.
IFAW strongly advocates that the Service deny the permit this hunter needs to import his trophy, as it only reinforces the lethal perception that a rare dead rhino is worth more than healthy rhino populations in the wild.
Additionally, the FWS will be deciding any day now whether to give new protections to African lions under the US Endangered Species Act. Lions have declined over fifty percent in the past three decades, and trophy hunters are clearly part of the problem. IFAW, along with Humane Society International and Born Free, drafted the technical petition to list this species three years ago, and are anxiously awaiting the decision. 
The US government has the opportunity right now to say that killing an imperiled and declining species for fun is just wrong. It is not right for lions. It is not right for rhinos. And it is not right for elephants. 
–JF
Join IFAW in keeping your voice loud and strong for these animals. Eventually our government will follow. And the decision last week to ban elephant trophy imports from two nations shows that they are listening.
GD Star Rating
loading...
Article source: IFAW