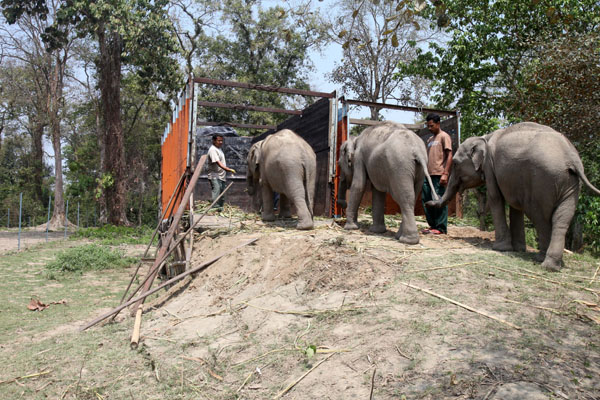 It's a tough task to move elephants. The journey involved a full day and night that slowly covered 450km and involved loading, feeding, caring and releasing our precious cargo. Two experienced International Fund for Animal Welfare (IFAW) and Wildlife Trust of India (WTI) veterinarians Dr. Anjan Talukdar and Dr. Avijit Bhawal lead a 16-member team quite confidently.
Elephants in trucks are an instant attraction. Md. Muktar Ali, a small businessman from Rangi, showed his gesture to "Ganesh Baba" (as people religiously call an elephant in Assamese) giving large banana trees to feed the babies and wished them a good future in Manas.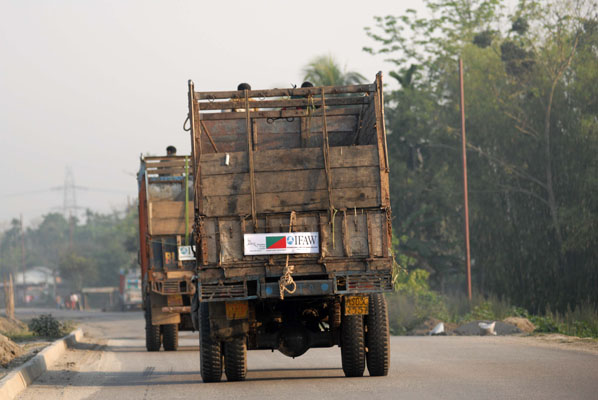 The most memorable jumbo journey came to an end when the three trucks travelling via National Highway 3, crossed the mighty Brahmaputra River and found its ultimate address, the new home for the little calves in Manas.
The green canvas of Manas with white stones on the river bed and touchy thin watercourse of the Doimari river is a unique and less explored landscape. Due to a prolonged insurgency crisis in lower Assam, the habitat suffered a lot with loss of land, wild animals and biodiversity.
IFAW-WTI are trying to bring back the glory of Manas with the Greater Manas Conservation Project. This elephant rehabilitation process is also a part of it. The translocation of the four babies, Jakhala, Rani, Tora and Diffoloo added another feather to it.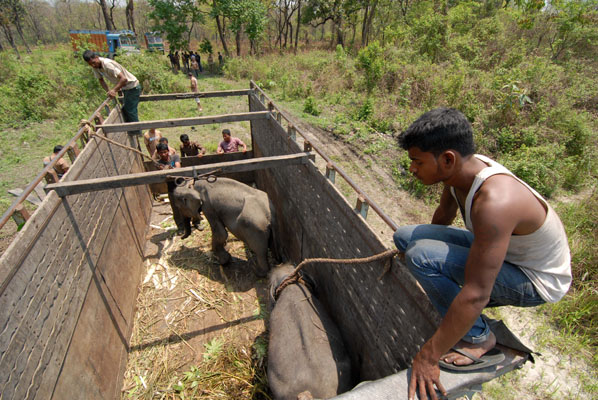 Jakhala, the most unapproachable calf took a turn just after getting down from the truck and moved towards the deep forest following a call of a wild elephant herd towards the north crossing of the Doimari River in Manas.
Jakhala was never hand raised after her admission to the IFAW Wildlife Rescue Center. She was rescued from a place called Jakhalabandha on the 27th August, 2011 and reached the Center on the 29th. She was always independent and active.
When the small elephant herd of orphan elephants in the Center was formed she behaved like a mother to the four calves. So, naturally, we expected that she remain close to the other three babies upon their arrival into Manas. However she had other plans. The IFAW-WTI animal trackers had to search for her the whole afternoon with no luck. In her own time, she decided to come closer and forage outside the night boma at Doimari. Our keepers are still trying hard to bring her back into the group.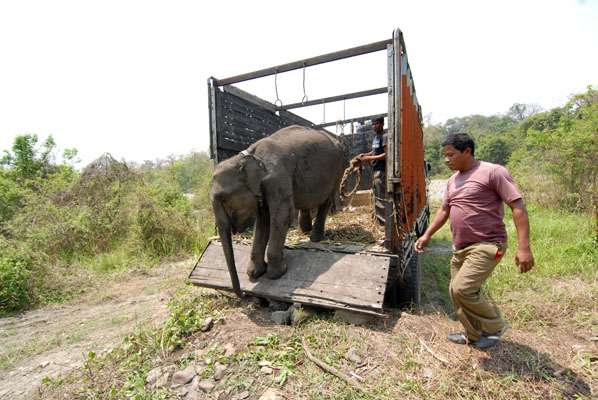 Diffloo, the wild baby was a challenge to guide inside the boma but at last he entered the night shelter. Tora and Rani interacted with Diffloo too and were more focused in exploring the grassland and their new habitat.
A big thank-you to everyone who helps us rescue these orphan elephants and give them a second chance at a life in the wild. Your continued support makes our work possible.
–SB
For more information about our work in Manas National Park, visit our project page.
GD Star Rating
loading...
Article source: IFAW