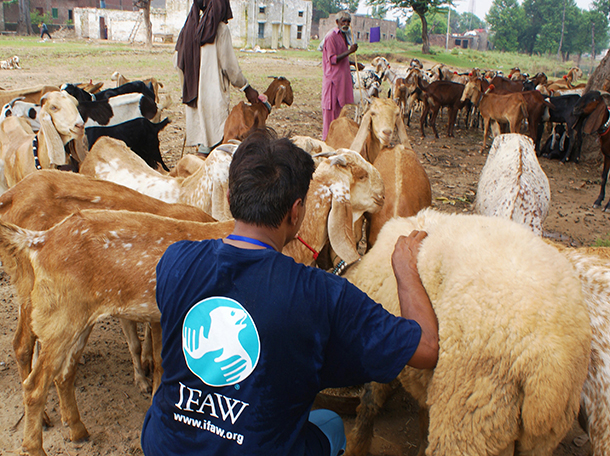 IFAW is teaming up with our local partner Ravi Foundation to help animals in Pakistan as a drought devastates thousands of families. Villages throughout the Tharparkar District, located along the southeast border with India, suffered all spring and summer from lower than average monsoon rains. The lack of which prohibited the growth of crops so completely that the government had no choice but to ask Ravi Foundation and subsequently IFAW to provide the great amount of support needed to sustain thousands of animals, both domestic and wild.   
My IFAW Animal Rescue Program colleagues in the Wildlife Rescue division also support this emergency feeding program as they too realize that Pakistani national wildlife are struggling to survive.
Our goal is to help over 2,000 sheep, goats, cows, and buffalo with a feeding program where families and government wildlife officials will receive nutritional feed and clean water to distribute over a 30 day period. This program may be the last chance for most of these animals…and the people who care for them to reverse the terrible course this drought has placed them on..
Ravi Foundation will administer this program throughout the Tharparkar District, part of the Sindh Province. Recent reports issued by the Government of Pakistan's National Disaster Management Authority predict that several thousands of animals have perished and close to 45,000 animals are affected by the lack of food and clean water.
We are so fortunate to work with local animal rescue organizations like Ravi Foundation around the globe who can act swiftly and competently when faced with disasters. I am so proud of this and many more collaborative relationships that expedite urgent care and support to help animals in crisis across all borders.
–SW
You can support IFAW efforts to help animals in crisis with a donation now.
GD Star Rating
loading...
Article source: IFAW