Fifty-seven feet is pretty big for anything really.
Consider the top of a two story house or more than half the distance from home plate to first base on a major league baseball field. Now think of an animal that is 57-feet long. Not too many animals fit that description other than the large baleen whales that inhabit our oceans.
I had the recent experience of seeing first-hand just how big a 57-foot whale truly was although unfortunately it was not during a whale watch. Rather, it was from the other end of a 12-inch dissection knife during a necropsy of a ship struck fin whale in New Jersey.
As a member of IFAW's Marine Mammal Rescue Research Program, I was part of a team of biologists and veterinarians from the Woods Hole Oceanographic Institution, the Smithsonian, the Riverhead Foundation, the New Jersey Animal Health Diagnostic Laboratory and the New Jersey Marine Mammal Stranding Center that were called upon to examine and dissect an adult male fin whale that had been hit by a 970-foot container ship. The large whale had initially been observed on April 12 wrapped around the bow of the ship as it was inbound into the Port of New Jersey. Then it floated away and it took two more days for the New Jersey Army Corps of Engineers to locate it and tow it to their floating dock.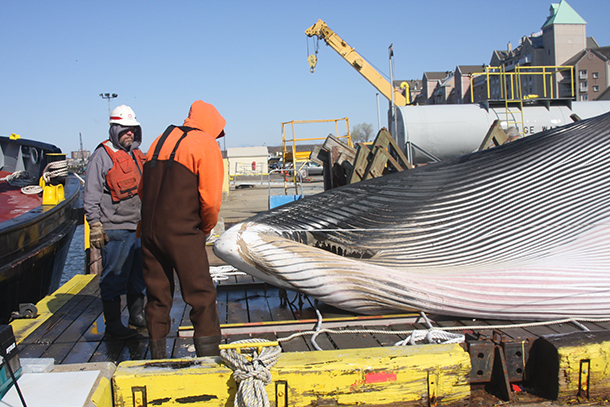 On the evening of April 15, I rode down to New Jersey for a planned necropsy on the following morning. At 9am on April 16, the eight member dissection team assembled and began the slow, methodical, and arduous process of taking apart the whale section by section in order to determine whether the whale was killed by the ship or possibly scooped up after it had previously died from another unrelated cause. 
Once we removed the blubber layer, we observed large amounts of hemorrhaging indicative of blunt force trauma. We then documented numerous rib fractures and whole parts of the vertebral column (the whale's spine) completely broken and shattered. It appears that the whale died almost instantly as a result of these injuries caused by collision with the ship. Ongoing lab tests should confirm this. It was tough to see and even tougher to imagine how brutal a force would be required to exact such internal destruction. We finished up the necropsy in the early afternoon, cleaned the gear and ourselves, and left New Jersey knowing that there was one less endangered fin whale swimming out in the wild.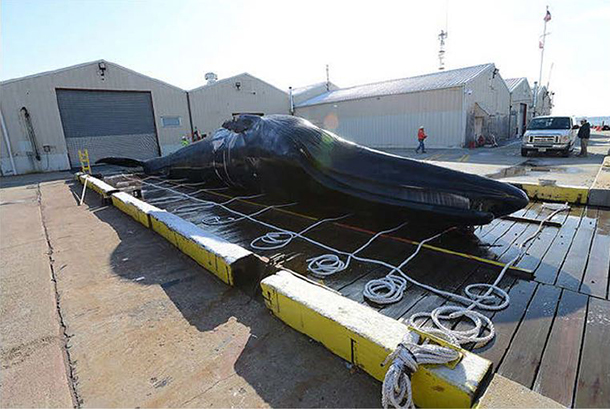 In 2008, the federal government enacted a rule requiring that all vessels more than 65 feet restrict their speeds to 10 knots or less when entering certain Atlantic ports during certain times of the year. That rule was in danger of expiring after a five year federal review, but thanks to numerous IFAW supporters and others speaking out about the importance of protecting whales and preventing future deaths due to ship strikes, the final permanent rule was put in place in 2013.
For this case, it is unclear when and where the ship strike occurred. It could have been near-shore in a speed restricted area or when traveling out in the open ocean. In addition, it will be difficult to determine the exact speed the vessel was traveling at the time of impact. In the end however, we do know that a whale trying to make a living in an ever increasing industrialized ocean often times does not always go well, despite being fifty-seven feet…
Disclaimer: the necropsy was performed under NOAA Permit No. 932-1905-001MA-009526.
–CT
For more information about IFAW efforts to protect marine mammals, visit our program page.
GD Star Rating
loading...
Article source: IFAW