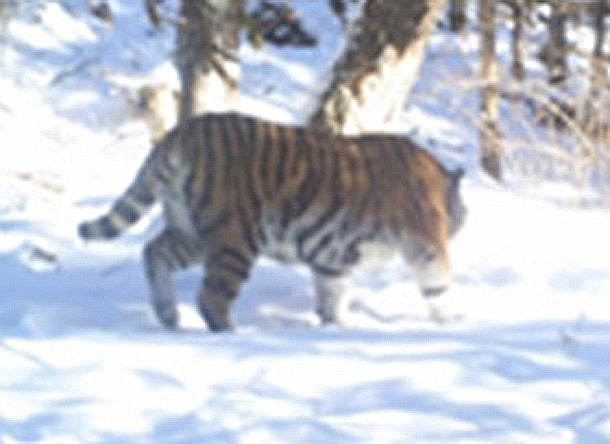 May 9th marks the 1-year anniversary since the release to the wild of Zolushka, the orphaned Amur tigress. I now reflect back upon the excitement and the anxieties we faced along the way. They called her "Zolushka", which is Cinderella in Russian, hopeful that her story would have a fairy tale ending.
WATCH: Amur tiger release – Cinderella leaps to freedom in Far East Russia!
On February 25th, 2012 the five to six month-old tigress was brought to the Russian Wildlife Department in the village of Krounovka. She was wrapped in a blanket for transport, a testimony to her weakened condition. A cub of that age would ordinarily be a dangerous animal to handle, but Zolushka was utterly helpless. She spent about two and a half weeks under the care of a Wildlife Department veterinarian and on March 14th she was transferred to the Alekseevka Rehabilitation Center managed by our IFAW partners – Special Inspection Tiger, and here she was kept until her release on May 9th, 2013.
News of Zolushka's release traveled to all corners of the world. Dramatic photos and videos of Zolushka's famous leap to freedom were viewed by millions – all rooting for her success. Masses of people in New York City's famed Times Square gazed at her super slow motion jump on a Jumbotron and IFAW's Zolushka – GoPro video become the most viewed IFAW-produced video of all time with over 1.5 million views and counting. Many in the IFAW family also felt a connection to Zolushka and would stop me in the hallway to say how inspiring the footage is and to ask me for updates.
When Zolushka made her jump back to the wild, our work wasn't at all finished. While Zolushka was busy investigating her new digs, much of the world was anxiously watching to see if she'd acclimate herself to a return to the wild, and it was an up and down ride.
Initial reports from her satellite collar and the field trackers were positive. Zolushka was finding food and investigating her new territory. Then the collar data showed she'd left the protected area! We spent some days holding our breath until she wandered back into the protected reserve. Weeks went by and tracking was going well but all of a sudden her satellite collar stopped transmitting!
Where was she? Was she still alive? There is a darker side to the interest in Zolushka. Did poachers somehow penetrate the protected area and kill her? Field tracking commenced and it was an all-out effort to find Zolushka. An anxious few weeks went by while trackers began searching from the last reported data point and finally the signal from the VHF backup on her collar was located. She was alive and thriving! The ground trackers continued to monitor and collect data on Zolushka throughout the long, cold winter of the Russian Far East.
IFAW's goal is to rehabilitate animals in a way that encourages the development of species-appropriate behaviors and survival skills, then to monitor that animal until we are satisfied that certain criteria are demonstrated. So, for us, a rehab is successful when:
The animal survives
It behaves in the same way a wild animal would
There is little or no conflict with people and domestic animals – like any other wild animal
No harm is caused to the existing population or conservation efforts
And in the case of Amur tigers, that they successfully survive the hardest survival period (i.e. winter)
Zolushka has ticked all the boxes and she has now become a member of the precious few that make up the wild Amur tiger population. Another ultimate measure of success is always reproduction. A fairy tale usually ends with the girl marrying the handsome prince and we are waiting for that. Although Zolushka is still too young to mate, evidence shows that she has been living in close proximity and interacting with the lone resident male in her protected area.
These are very positive signs.
IFAW is very grateful and congratulates all the organizations, Russian governmental offices and others who worked collaboratively with us to make this possible. Thanks go to those who helped care for a helpless tiger cub found malnourished and weak, and with a frostbitten paw and tail. Thanks also to those who spent months in the frigid winter weather to track her movements and activities. Thanks go to our incredible supporters for their encouragement and funding towards her rehabilitation.
Although Zolushka can't voice her thanks, she is undeniably happy to be back in the wild where she belongs. Zolushka's fairy tale ending is very important in demonstrating the feasibility of recovering tiger populations – not just for Russia, but all of Asia. 
—GA
Click here to learn more about IFAW's work to save tigers.
GD Star Rating
loading...
Article source: IFAW