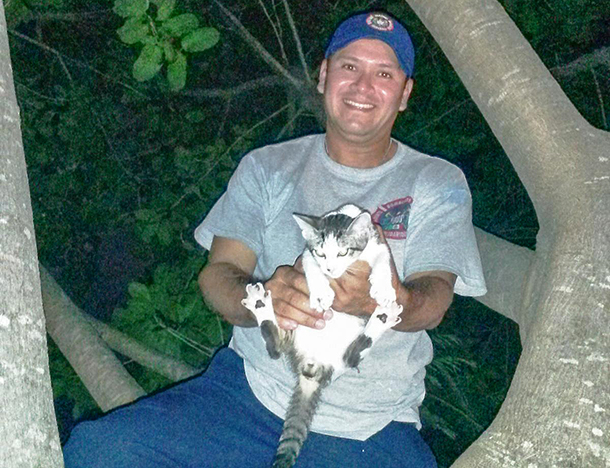 Yesterday, my friend and neighbor Lola called me asking for help because someone dumped several kittens in a park near her house in Playa del Carmen, Mexcio.
When I arrived we managed to capture one, the others –frightened of course- ran away and one climbed to the top of a tree.
We offered her food and try our best to make her climb down but nothing worked. She tried a couple of times but the branches were too thin and the wind was blowing hard, so she just stayed there crying. Time passed so we decided to call the fire department for help.
They responded immediately and came fast despite knowing that it was about a kitten in a tree!
When they saw how high the kitten was, even that they brought a long ladder; they decided it was safer to climb the tree and try to grab the kitten. The two heroes started climbing, the one who managed to climb all to the top was Officer Ismael Bernal, then his partner Officer Efrén Jiménez waited for him in the middle of the tree to grab the cat so his partner could get down safely.
In the pictures you can see how high this little cat went!
The kitten didn't resist her capture; in fact, I think she felt relieved when the fireman grabbed her. We put her in a kennel and then brought her inside Lola's house to join her sibling, the scene was really cute, they started purring and showing affection by hitting their heads to each other.
Once relaxed, both kittens started playing as if nothing happened, we estimate they are around 2.5 or 3 months old, and we are sure they were living in a house because they were very clean and used to be pet and carry by humans.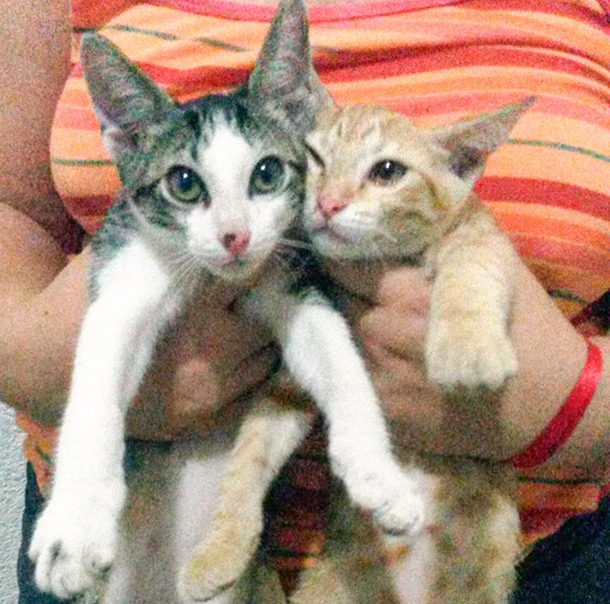 People commonly believe that kittens can be released to the streets and they will survive and even thrive, I feel very frustrated about this belief because unfortunately just a few will make it and most of them will face horrible deaths. Sadly, this morning my friend Lola found two of the kittens that ran away dead, one hit by a car and the other apparently attacked by dogs, we have no idea how many more kittens are out there and if they are still alive.
Read the impact of community action: Travel diary: Two working days inside the Bosnia roaming dog project
IFAW is working a lot promoting responsible care of cats and dogs trough the local media, community approaches with our mobile unit and with IFAW's Animal Action Education Program that has been implemented in several schools, but we still have a lot of work to do to prevent this.
I want to thank Playa's Fire Department with whom we have always had a great relation and they are always willing to help us with committed officers like Officer Bernal and Jiménez, and also to my friend Lola who rescued these adorable kittens from an uncertain future and is giving foster home to them.
–JDLT
Visit our project page to learn more about how IFAW helps dogs and cats.
~~~
En español: Gatito en un árbol
Ayer me llamó mi amiga y vecina Lola para que le ayudara a capturar unos gatitos que fueron abandonados en un parque cerca de su casa.  Cuando llegué logramos capturar a uno, los demás –obviamente muy asustados- huyeron y uno trepó hasta la cima de un árbol. Le ofrecimos comida e hicimos lo posible para que bajara pero nada funcionó. La gatita intentó bajar un par de veces pero la ramas eran muy delgadas y el viento soplaba fuerte, por lo que permaneció inmóvil en ese lugar llorando de desesperación. El tiempo pasó y decidimos llamar a los bomberos quienes respondieron inmediatamente ¡a pesar de saber que se trataba de un gato en un árbol!
Cuando vieron lo alto que estaba la gatita decidieron que era más seguro trepar el árbol que usar una escalera larga. Los dos héroes comenzaron a trepar, el Oficial Ismael Bernal fue quién llegó hasta arriba y logró sujetar a la gatita, mientras su compañero el Oficial Efrén Jiménez lo esperó a la mitad del árbol para sujetar a la gatita y que su compañero pudiera bajar con seguridad. En las fotos pueden ver qué tan alto trepó la gatita.
La gatita no se resistió a la captura, de hecho, creo que se sintió aliviada de que por fin alguien la rescatara. La pusimos en una transportadora y la llevamos dentro de la casa de Lola para reunirla con su hermano. La escena fue muy conmovedora, inmediatamente que se vieron comenzaron a ronronear y a chocar sus cabezas demostrándose cariño. Una vez que se relajaron comenzaron a jugar como si nada hubiera pasado.  Creemos que tienen 2.5 meses o 3 de edad, y estamos seguros que vivían en una casa porque estaban muy limpios y muy acostumbrados a ser acariciados y cargados por humanos.
Leer el impacto de la acción comunitaria: Diario de viaje: Dos días hábiles dentro del proyecto de perros callejeros Bosnia
Hay una creencia común en la gente de que los gatos pueden ser liberados en las calles y que van a sobrevivir e incluso prosperar, esa creencia me frustra mucho porque en realidad son muy pocos los que logran sobrevivir, la mayoría se enfrentan a muertes horribles. Por desgracia este caso no fue la excepción, esta mañana Lola encontró dos de los gatitos que escaparon muertos, uno atropellado y el otro aparentemente atacado por perros, no sabemos cuántos gatitos más sigan por ahí ni si estén vivos.
El IFAW está trabajando para promover el cuidado responsable de perros y gatos a través de difusión en medios de comunicación, acercamiento con la comunidad con nuestra unidad móvil y el programa educativo Educación y Acción por los Animales que ya se ha instrumentado en varias escuelas de Playa del Carmen, pero aún tenemos mucho por hacer para prevenir casos como este.
Quiero agradecer al Departamento de Bomberos de Playa del Carmen con quienes hemos tenido una muy buena relación y siempre han estado dispuestos a ayudar a los animales como lo hicieron los oficiales Bernal y Jiménez, así como a mi amiga Lola quien rescató a estos gatitos hermosos de un futuro incierto y les está dando hogar temporal.
Visite nuestra página del proyecto para aprender IFAW ayuda a los perros y gatos.
GD Star Rating
loading...
Article source: IFAW