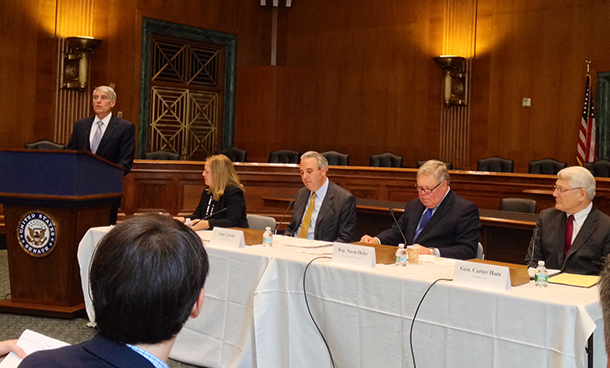 It's been just over a year since President Obama made his landmark announcement on wildlife trafficking in Tanzania, and in that relatively short time, poaching has become a major issue on Capitol Hill.
On Wednesday the conversation got a little louder, as IFAW and our coalition partners hosted a briefing on what the poaching crisis means for endangered species, what it means for global security, and how the United States can help rein in the catastrophe before it's too late.
Sponsored by Senator Mark Udall of Colorado, the event also featured General Carter Ham (retired US Army Commander, Africa Command), Brooke Darby (Deputy Assistant Secretary of the US State Department's Bureau of International Narcotics and Law Enforcement Affairs), and former Congressman Norm Dicks, all of them true experts in international affairs who understand how the ripple effects of wildlife trafficking can impact fragile democracies around the globe.
The packed room of Congressional aides heard how the government is already engaged – and what more needs to be done – in the fight to reverse this scary state of affairs.
If you've read IFAW's report Criminal Nature, you know that poaching isn't just a small-time business anymore: Trafficking in animal parts like rhino horn and ivory is a multi-billion dollar industry facilitated by some of the world's most notorious criminal organizations, and the same militant groups (like the Lord's Resistance Army in Uganda, al-Shabaab in Somalia, and Boko Haram in Nigeria,) who have committed atrocities against humankind are also heavily implicated in poaching.
The toll is already too great for these species, and unless we act now there's a real threat that regional populations could be extinct in a matter of years.
As General Ham described at the briefing, it's not just animals in the crosshairs. Wildlife rangers, ill-equipped and often outgunned by poachers, are also in severe danger – more than 1,000 rangers have been killed in the line of duty in the last decade – but they stand to make tremendous gains if we help them get better access to resources like military intelligence, or even basic supplies like boots and tents.
President Obama has committed to taking a "whole of government approach" to solving this crisis, but some branches of his Administration have been quicker to act than others (in particular, the Fish Wildlife Service has made bold steps on the domestic front, and the State Department is working hard to reduce demand for wildlife products abroad).
It's taken longer to gain traction with the Department of Defense, but many officials are coming around to the idea that poaching isn't just a problem for animals, and events like Wednesday's briefing can go a long way toward raising the issue's profile.
–PL
Stay tuned for more news from IFAW, and take action by telling the President to stand strong on his commitment to reducing the illegal ivory trade. 
GD Star Rating
loading...
Article source: IFAW