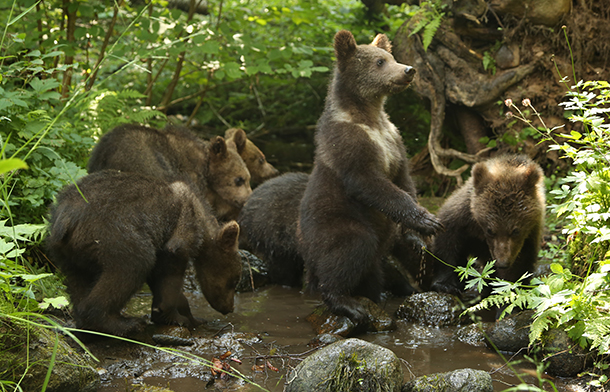 The post below comes in to us from IFAW Russia Office staff member Mila Danilova. – MV
The 13 bear cubs at the International Fund for Animal Welfare (IFAW) Orphan Bears Rehabilitation Center have divided themselves into two groups, which are independently moving within the territory of the enclosure and its surroundings.
IFAW helps orphaned bears around the world: Watch this video of orphaned grizzly Littlefoot's release into British Columbia wild.
Not all bear cubs always love being with their peers. For instance, the smallest bear cub, Nelly, prefers solitude to interaction with other cubs, even though she has moved together with the group. When Nelly is with the rest of the group during meal times, she is very actively fighting for food despite her small size, which can be quite amusing to witness.
Mishka, a bear cub from the Smolensk region, is different from his peers due to his "higher" playfulness and sociability. Wherever he is, there is always some play going on – with branches, cones or other bear cubs.
The cubs love chasing each other, but they are already more cautious. When a human approaches, they either run away very fast, or climb the nearest tree.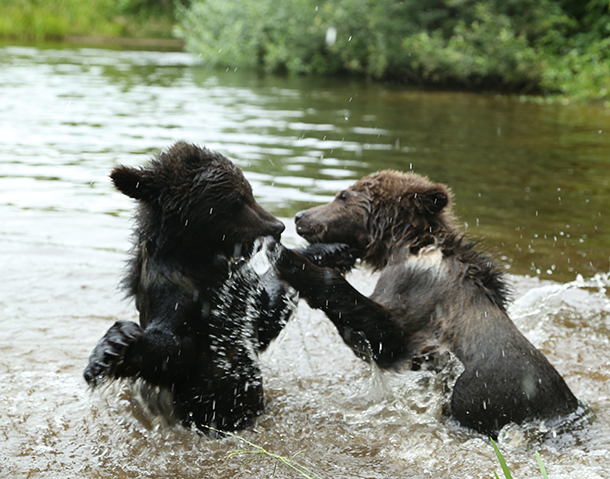 This summer has been very hot. The bear cubs frequent a small water pond near the enclosure, where they bathe, swim, play, splash, and move from one side of the pond to the other various sticks and branches.
The bear cubs are currently foraging for natural food, including plenty of ripe ashberry, apples, acorns and nuts. One of their most favorite "dishes" is angelica ursina. The bear cubs find thickets of this herb and enjoy their meals until they fall asleep right there, full and satisfied.
Now is a very important time for the bear cubs, as they have to gain sufficient amount of fat to winter successfully.
–MD
Another viewing option: Watch the Orphan Bear Rescue Project – Russia video at ifaw.org.  
GD Star Rating
loading...
Article source: IFAW