Throughout the year IFAW's Marine Mammal Rescue and Research team brings on a number of interns who gain valuable experience responding with staff to reports of marine mammals in distress along Cape Cod's shores. This post by intern Margot Madden depicts one of those responses to help an ill grey seal, later named Mary Arnold. – BS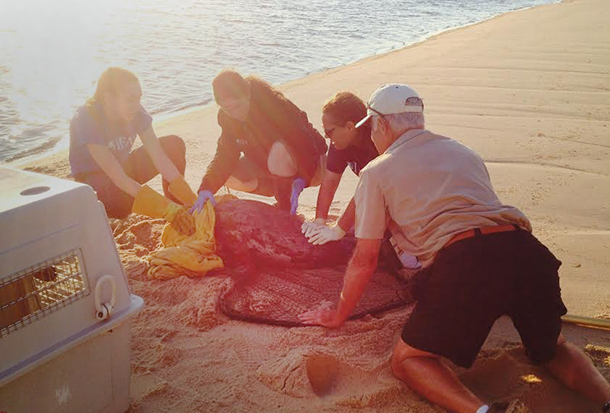 On July 12, the International Fund for Animal Welfare's (IFAW) Marine Mammal Rescue and Research stranding hotline rang with a late afternoon report of a potentially injured seal at Head of the Meadow Beach in Truro.
The location and description of the animal were similar to those in a report of a female juvenile grey seal that had been observed the previous day. That animal had been assessed from a distance, so as not to disturb her, and put on a 24-hour watch as she was alert and responsive, but appeared somewhat thin.
We headed out to verify the new report and to determine if it was the same seal.   
When we arrived at the beach, the tide was out, and we observed two seals that were hauled out on the far end of the sandbar and isolated from the rest of the herd. One of these seals was, in fact, the animal that had been observed previously.
Upon closer inspection with our binoculars, we noticed areas of missing fur along with some visible lesions that could not be observed earlier. Given her thin body condition, lesions and isolation from the herd, she was in need of further medical assessment and likely a candidate for placement into a rehabilitation facility. 
We had to make some calls to see if there was even any place that would be able to take her. In previous years, finding a placement would not have been as difficult. However, as of June 1, the largest marine animal rehabilitation facility on the east coast closed.
The closure of the University of New England's Marine Animal Rehabilitation and Conservation program leaves just the National Marine Life Center (NMLC) in Buzzards Bay, Massachusetts and Mystic Aquarium in Mystic, Connecticut as the only facilities in New England that can rehabilitate sick and injured seals. Luckily, NMLC had an open spot and was able to take her in for rehabilitation.   
We gathered as a team to formulate a capture plan. Two of our team members slowly moved toward her holding crowder boards that we use to help block the seal from heading back to sea. Unfortunately, as they approached, the two seals flushed and disappeared into the water.
Thankfully she hauled out again, still away from the herd, but at a point on the sandbar that was easier for us to get to her.
We were hopeful that we would be able to capture her this time, but, given the fact that she was already "on alert" from our previous approach, we were doubtful that we'd be successful on a second attempt.
We had to move quietly and slowly if we were to get close to her.
IFAW Response Apprentice Kasi Gilbert and I slowly crawled out, hoping not to spook her. Once close enough, we counted down together and then burst into action. I distracted the seal while Kasi rushed up from behind with a special hoop net and secured the animal.
Our plan had worked.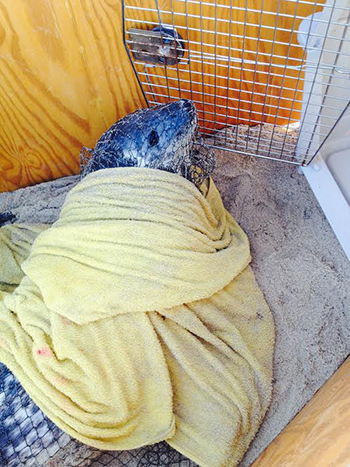 I then moved in to safely restrain her so we could remove the net and conduct a physical exam.
Her physical exam revealed alopecia (fur loss) on 25 percent of her body, open lesions on her side and back, and a cloudy left eye. These findings and her observed behavior reinforced our decision to place her into rehab.
Due to the late hour, she was initially brought to IFAW's seal holding pen for initial care, stabilization and overnight holding. There, we conducted a more thorough exam, collected and analyzed her blood and administered fluids.
The next morning, our team transported her to NMLC. The NMLC staff admitted her and, in honor of the Cape Cod Canal's 100-year anniversary, named her Mary Arnold after a tugboat that hauled granite used in building the Canal.
Once we were back in the office at IFAW headquarters, we started piecing together photos from previous reports of seals with similar coat patterns.
By matching unique coat patterns, we were able to confirm that Mary Arnold was first reported to us on July 7 at Scusset Beach in Sandwich when a beachgoer saw her and snapped a photo before she returned to the water. 
In a span of several days, Mary Arnold swam from Sandwich, across Cape Cod Bay and around the point to Truro's ocean side.
Over her two months at NMLC, Mary Arnold's health steadily improved.  Her journey around Cape Cod came full circle when she was released on September 12 back at Scusset Beach.
Collecting her from the beach, watching her thrive in rehabilitation and having the honor of opening her kennel to release her was a full circle experience for me as well.
–MM
GD Star Rating
loading...
Article source: IFAW