by Michael Sharp
The transfer gate slid open like a barn door, and the two tigers stepped out into a covered walkway. Waiting on the other side was the largest expanse of land they'd ever set paw into: 12,000 square feet.
The sisters sniffed at the trees, at the stumps, at the plants. They found a lush patch of grass and rolled on their backs. They crawled up onto the elevated wooden platforms.
Adopt a tiger with a monthly donation to The Fund for Animals »
"Their minds were completely blown," says Katherine Birk, lead wildlife caregiver at the Cleveland Amory Black Beauty Ranch. "They had never had a moment where they didn't have a cage over their head."
It was a moment five years in the making.
Follow Their Journey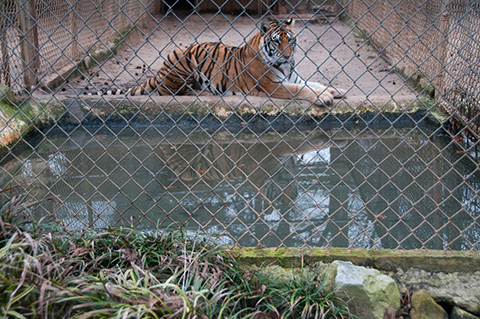 In the fall of 2009, an undercover HSUS investigator spent 28 days at a roadside zoo in Mississippi, documenting inadequate care for the animals and safety concerns for the public. A macaque, left alone in a barren cage, was showing signs of self-mutilation. A black wolf, clearly sick, received no veterinary attention and died days later. Some of the cougars were emaciated, the points of their hip bones showing against their skin. And here, Natalia lies near the remnants of a pool, in the cage where she'd likely spent most of her first nine years.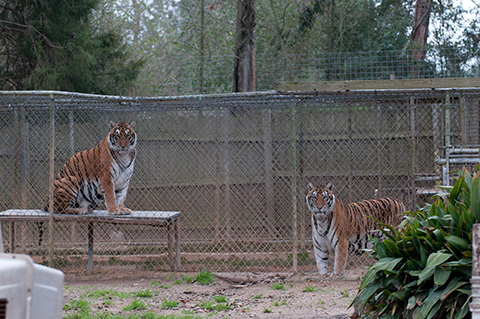 "It was just a very barren sort of existence," remembers Adam Parascandola, HSUS director of cruelty response. "No grass. … No logs or anything to claw on. Nothing like that." The cages that confined Natalia (right) and her sister Anastasia were made from inadequate chain link fencing, with low ceilings. Anastasia was beginning to suffer from renal failure; her unbalanced diet comprised almost exclusively chickens.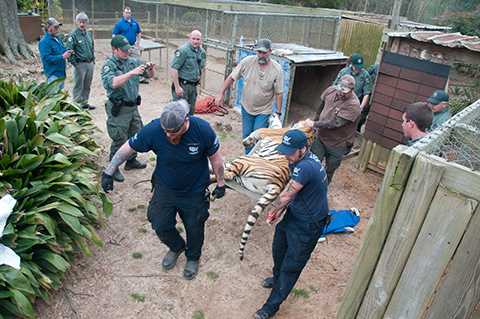 Natalia (shown above), her sister and another tiger—Gustavo—were literally carried to a fresh start in January 2012. The HSUS had submitted legal complaints to the state of Mississippi, leading eventually to this iconic moment. "It was a long road to get there," says Parascandola, who joined an expert group of veterinarians, handlers, HSUS responders, and state fish and wildlife agents in removing 11 animals, including two cougars and the macaque.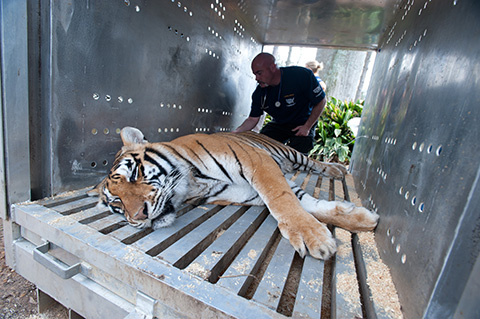 Officials with Mississippi's Jackson Zoo delivered the sedation via dart guns, allowing responders to carry the animals to transport cages and veterinarians to perform initial evaluations. "It's a very precise and tricky operation to get everything timed just right," says Parascandola. The goal: Have the animals emerge from sedation in time to be able to stand up in their cages before the transport began. At one point, a sedated tiger prematurely lifted her head and gave a bit of a roar. "That," says Parascandola, "definitely gets your adrenaline going."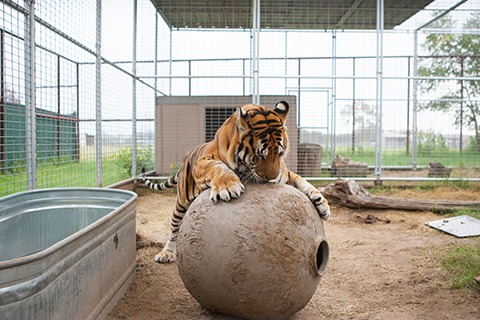 The three tigers were taken to Black Beauty Ranch, operated by HSUS affiliate The Fund for Animals in Murchison, Texas. Gustavo had never had a den before; he stayed in his new one for days. "They were just basically scared," Birk says. "But it only took them a few days to kind of warm up to us." Caregivers helped their personalities emerge by providing daily enrichment: pine branches, cardboard boxes scented with colognes, nontoxic children's paint to smear across a canvas with their face and paws—and for Gustavo here, an oversized Boomer ball. "He would not stop playing with the ball," Birk says. "It was like that's what he'd wanted his entire life."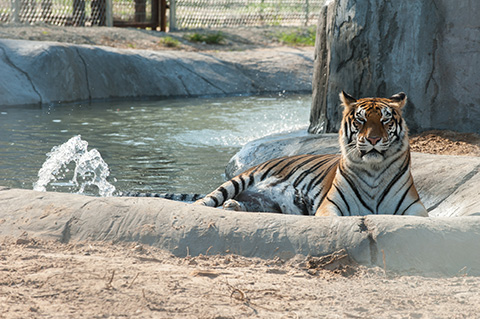 And then this August, Anastasia and Natalia became the first of Black Beauty Ranch's four tigers to enter the new 5-acre habitat. The land is divided into three yards: one featuring a waterfall, another with a shallow lagoon (which Natalia is enjoying above) that feeds into a 5-foot-deep pool. The biggest yard, at 3 acres, also has a large natural pond and wooded areas. "All of them have been taking to the water in varying capacities," says Birk, noting that Alex—rescued from an abandoned menagerie in Kansas—is fully swimming at this point, "whereas the girls … just like to take a dip and hang out in the lagoon." For the first time in their lives, the tigers can also run full-speed, up to 35 miles per hour.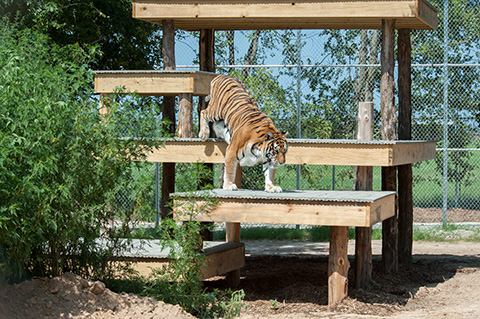 The 14-foot-high set of platforms offers the tigers a view of the enclosures around them—and more importantly, a chance to build and tone their muscles. Already, caregivers have seen results with Anastasia, who's still battling the effects of that poor diet in her past life. "With just [the chance] to climb and walk long distances, she's really toned out her hind end," Birks says. Here, Natalia climbs down. No one's ventured to the top yet, but caregivers are trying to coax them there—placing scented enrichment items and their Boomer balls up higher and higher.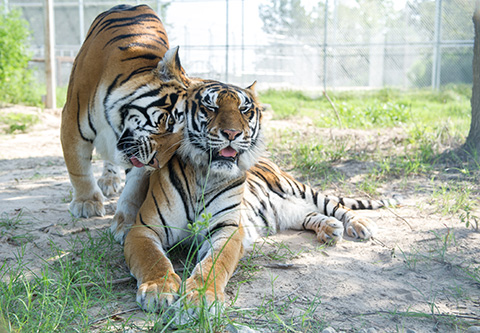 The sisters, now 11, can at times be fiercely independent and at other times incredibly bonded. Some afternoons, one will take a dip in the pond while the other lies in the shade. "They do what they want to do," Birk says, "but when they come back together, that's when they do the head butt greeting." It shows affection, as does their low "chuffing"—a tiger's take on purring. At nights, in their indoor "bedroom," the two will sleep close to one another.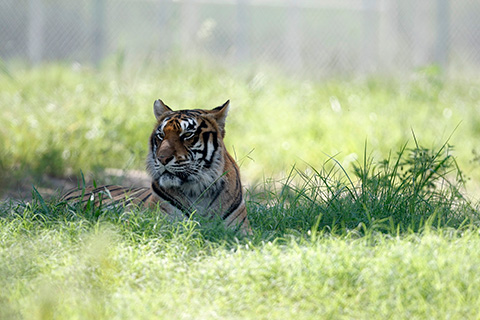 Here, Anastasia enjoys a slice of shade. More than two years after helping carry the tigers out on stretchers, Parascandola logged online recently to watch a video of the animals entering their new habitat and catch a glimpse of powerfully simple moments similar to this one. "I'm obsessed with them and how well they're doing," he says. "It's just really amazing and moving to see. As far as we know, for the first time in their life, they're actually in a more natural environment. And it's really stunning to see."
Adopt Alex with a monthly donation to The Fund for Animals »
GD Star Rating
loading...
Article source: HSUS