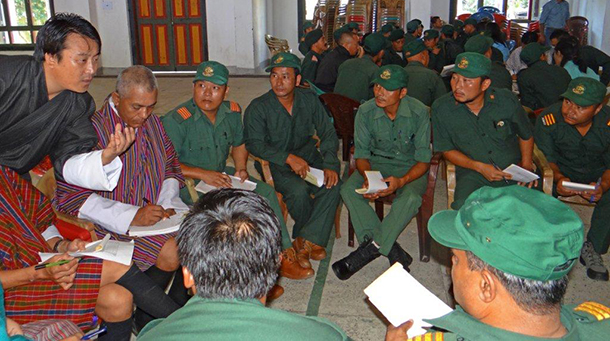 Editor's note: Jose Louies, Wildlife Trust of India's Assistant Manager, Enforcement Assistance and Law filed this report about this recent ranger refresher training.
"We are looking after them from the day they were rescued from illegal traders; these guys eat a lot of crickets and grasshoppers every day. We all have an unwritten duty to collect grasshoppers or crickets daily to ensure that they are well fed. They don't like the dead ones so we have to ensure all the grasshoppers fed to them are live," said Mr. Phub Dhendup, Chief Forest Officer, Sarpang Division, who allowed us an entry into their strong room where they kept two Tokay geckoes (Gekko gecko).
We are in Southern Bhutan, as part of IFAW-Wildlife Trust of India (WTI) Wildlife Crime Prevention Training team. The Indo- Bhutan border area is not an easy place for enforcement officials to work. 
IFAW supports various animal protection training around the world. Read about recent whale disentanglement training in Tonga.
Incidentally, Dhendup was sitting on logs of red sanders (Pterocarpus santalinus) that were seized from smugglers who were transporting this contraband from India to China via Bhutan. He drew our attention to the reinforcements done to the room to ensure that no one could steal these seized items from their custody.
Two geckoes and few hundred kilogrammes of red sanders are collectively estimated at a few million dollars in the illegal market. 
"Our unit apprehended thirteen cases of gecko smuggling in the last few months", said Dhendup. "Our intelligence network comes across consistent attempts of smugglers carrying red sanders, tiger skins and geckoes across the border," he added. 
"Bhutan is a transit point between the source and destination countries in illegal wildlife trade", said one of our co-trainers, who works as an undercover Forest Protection and Surveillance Unit operative. His concerns are justified; in the past year they have recorded several seizures of illegally traded wildlife. 
Organized wildlife crime was not a matter of concern until a few years ago in this wildlife rich country, but its geographical location and the international reach of this trade has induced Bhutan to take extra measures to protect its rich natural heritage.
Our first round of the IFAW-WTI Wildlife Crime Prevention training just concluded recently. Sixty-eight frontline forest staff attended this refresher course at Sarpang. The trainers were made up of a mix of experts from IFAW-WTI and forest officials from Bhutan, who train the front line rangers on topics, such as wildlife product identification, setting up intelligence networks, laws related to illegal wildlife trade in a mix of classroom and practical sessions involving mock exercises. This batch was first trained in 2011 and the refresher training serves to reinforce their learning.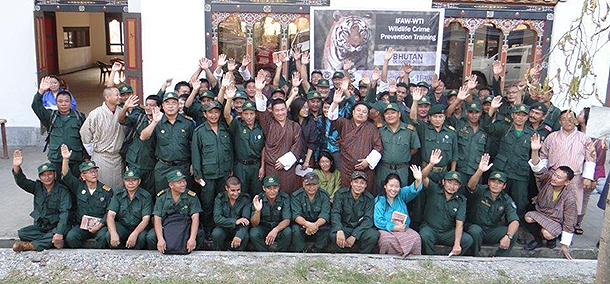 Training frontline staff is always interactive. During a case study session of a mock exercise, one group was overly concerned about imposing fines on a 'suspect' who was accused of poisoning a tiger to collect its body parts for trade. One of the participants argued that the man was not a poacher and he killed the tiger only because the tiger killed his cows, on which his family's livelihood depended. According to him the man was dutifully protecting his family and livelihood from a predator. He was of the opinion that such cases should be considered very carefully where the primary intention was not trade of wildlife goods. 
Nevertheless, the increasing human-wildlife conflict is a matter of concern from various angles as situations like cattle lifting by tigers or leopards and crop raiding by elephants may result in retaliatory killings that lead to trade in animal products.
"I need to step up my network of informants to effectively combat illegal wildlife trade," said a determined Singheye, a forest ranger, when we left Sarpang to the next training location. "Effective patrolling and preventive intelligence can help us ensure that the wildlife crime in the region does not get established. You know, the tigers and elephants that move across the international border do not have any nationalities… they belong to planet earth," he said, gripping this assault rifle tighter. I was relieved that any smuggler who tries his luck in this border forest will have to encounter Singheye and his steely resolve to counter illegal traffickers. It's no wonder then that his colleagues fondly call him "the elephant "– an attribute to his love for the jungle and his patrolling skills.
We moved across into India briefly before re-entering Bhutan to train the next batch of rangers in Royal Manas National Park. This is a road journey of about 220 kilometers and a river crossing across Manas River in small boats to our destination.
Training workshops such as these bring slow and steady results. IFAW-WTI  have been imparting training across Bhutan to not just forest rangers, but various enforcement agencies, including army, police and customs officials. Enforcement will succeed when all agencies are equally aware, alert and enthused.  
 –JL
Learn more about IFAW's wildlife crime campaign, click here.
GD Star Rating
loading...
Article source: IFAW